Evil Strikes Sutherland Springs, Texas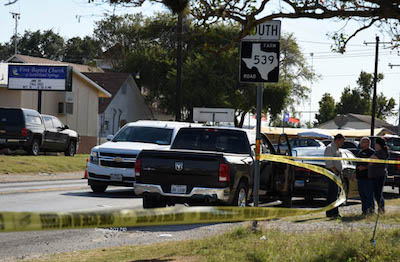 Sutherland Springs, Texas is located in Wilson County on US 87 South, just southeast of Bexar County, and has a population of about 643. On Sunday, November 5 at 11:30am in a small Baptist church on FR 539 with an attendance of about 50 worshipers, evil struck like a lightning bolt, killing 26 and wounding another 20. I refuse to give evil a name. Twenty-six innocent believers met their savior at the hands of a determined and deliberate, depraved man.
We went to Sutherland Springs today to see how the people were dealing with this wicked act of violence. This act affected me so much that I needed to see for myself. It is hard to imagine the pain that must be searing in the hearts of the families that lost loved ones. It is inconceivable to believe how one person could be filled with such hate as to destroy so many innocent human lives. Two residents told me it was pure evil what happened in their tiny community. Residents are having difficulty getting to their regular destinations because of so many 'invaders'. I am sure they want their 'old' lives back but we all know Sutherland Springs will never be the same.
People that live in small towns enjoy the quiet and the familiarity of its residents. So, a once quiet community has become a hub for reporters, cameras, and news trucks that line US 87 South on both sides of the road close to the tiny church. It seemed that there were more news people than residents buying chips and cokes at the corner Valero. The First Baptist Church was completely surrounded by Department of Public Safety troopers and yellow tape, indicating the crime scene, fluttered in the breeze on this beautiful sunny day. In fact, a DPS helicopter flew over the area with a photographer taking images from above. No one is permitted to cross the yellow tape, no, not even the news people.
US Senator Ted Cruz was addressing the news media when I arrived at the location. CNN, ABC, FOX, NBC, AP, SPECTRUM, TeleMundo and reporters from New York, Illinois, Nevada, and even Italy were present. Yes, they wanted to know about the 'gun violence'. The residents I spoke to did not blame the guns, only the gunman.
As we were leaving, I saw this beautiful candle depicting Jesus Christ with fresh flowers all alone in a huge field of grass a short distance from all the activity and the church. It reminded me of how lonely some of the mourners must feel and how as believers they know that our Lord and Savior will bring peace and comfort to those that trust in Him.
Pray for the people of Sutherland Springs. God bless Texas, and may God send his army of angels to protect America.