The Fightin' Texas Aggie Corps of Cadets: 142 Years of Tradition
by Ted Poe
on December 7, 2018 at 10:50 AM
---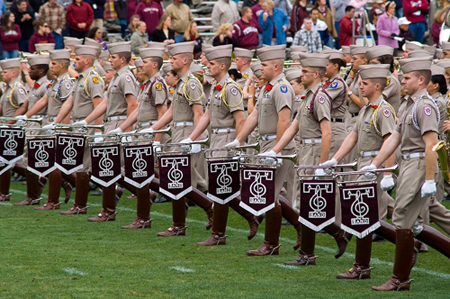 Texas A&M University opened its doors to 40 students in 1876 as the Agricultural and Mechanical College of Texas. Created under The Morrill Act, which stipulated that all students participate in military training, all Texas A&M students (at that time, admission was limited to white males) were members of the Corps of Cadets.
Aggies have been serving with honor in the armed forces since the Spanish American War of 1898. During the Spanish American War, 89 Aggies served in the Army, and 63 Aggies served as officers. When the United States became involved in World War I, 702 A&M graduates served in the military, and 668 graduates were officers. Texas A&M also trained over 4,000 troops during World War I.
It was World War II, however, when Texas A&M exhibited its expertise in training soldiers as well as scholars. On December 7, 1941, students were watching a movie at the Campus Theatre. Upon hearing about the Japanese attack at Pearl Harbor, the theater manager shut off the film projector to announce the attack. ``Beat the Hell out of Japan'' became a rallying cry across campus, encouraging students to enlist. In order to speed up the process of sending more Aggies to the front lines of the war, Texas A&M instituted a twelve-month, three semester training program to prepare its soldiers.
According to an article in the Houston Post in November 1942, courses were scheduled 24 hours a day to prevent crowding in workshops and laboratories. Notably, the entire graduating classes of 1941 and 1942 enlisted in the armed services immediately following graduation.
One of these individuals was Arthur Lowell Lapham. Mr. Lapham was a fourth generation Texan and a proud Fightin' Texas Aggie who enlisted on June 30, 1942. He would go on to fight for the United States in the Pacific Theater, serving as a fighter pilot in the Army Air Force in Japan and the Philippines. Mr. Lapham was one of 20,000 Aggies who served in World War II. 14,000 of these men were officers and twenty-nine were commissioned as generals. Close to 1,000 Aggies died in combat for this great nation; seven Aggies were awarded the Medal of Honor.
Membership in the Corps of Cadets is now voluntary at Texas A&M; however, the university continues its tradition of training men and women to serve their country through military service. To this day, Texas A&M is the largest provider of military officers outside of the service academies.
General George S. Patton once said, ``Give me an army of West Point graduates, and I'll win a battle. Give me a handful of Texas Aggies, and I'll win a war.''
And that's just the way it is.