Georgia Farmer Honors 'American Sniper' Chris Kyle
by Bob Price
on September 11, 2015 at 9:34 AM
---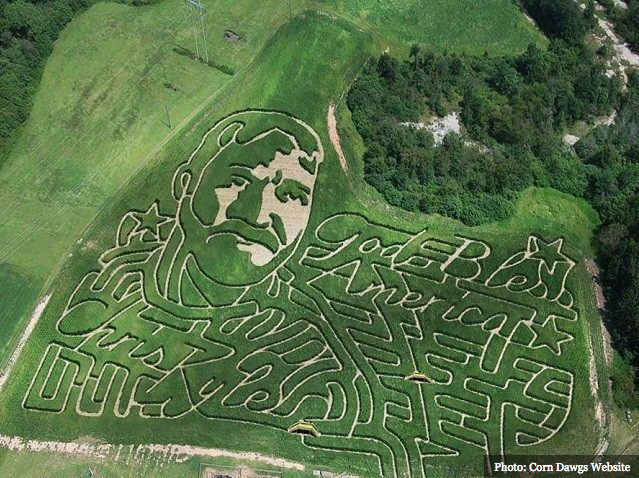 A Georgia corn farmer created an artistic tribute to "American sniper" Chris Kyle out of a seven acre maize field.
The family-operated farm and amusement park located about 35 miles east of Atlanta created a maze in the maize field that shows a likeness of the slain American hero along with a tribute message.
Misty and Lamar Duren own the unusual business, according to Fox News' Todd Starnes. The farm, dubbed "Corn Dawgs" is a combination farm, adventure park, and farm. In addition to the maize field, the compound also boasts a pumpkin patch, a petting zoo, and a cannon that shoots an ear of corn over the length of a football field.
The tribute to Chris Kyle, shown in the photo above, displays the likeness of Kyle carved by a tractor using a GPS navigation system. In addition to the Kyle image, it also carved out the words "God Bless America" and "Chris Kyle." It took three miles of trails to be cut out to create the "maize maze" image of the Texan who was already well on the way to becoming a worldwide legend when he was tragically killed on February 2, 2013.
When asked by Todd Starnes about why she and her husband created this masterpiece, Misty Duren replied, "I felt like we needed to do something patriotic. It hit me one day to honor Chris Kyle."
Other honors have recently been bestowed on the "American sniper." In July, Breitbart Texas reported that a veterans hospital in Alaska opened bearing Kyles name. The following month, Texas Governor Greg Abbott presented the Texas Legislative Medal of Honor to Taya Kyle, the widow of Chris Kyle. The medal is the highest military honor that can be bestowed upon a Texan who has served in the U.S. or Texas military forces.
Mrs. Duren told Starnes she and her family wanted to honor ever member of the military with their creation.