Houston Astros Make It Happen!
by Ted Poe
on October 25, 2017 at 2:31 PM
---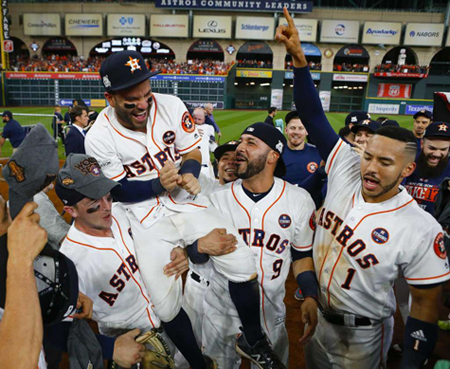 It is the seventh game of the American League Championship Series. After being down three games to two, the Astros, who dedicated their season to the people of Houston, had tied the ALCS three to three against the powerful New York Yankees.
The winner goes to the World Series against the mighty Dodgers. It is the top of the ninth inning in Houston 
The Astros are up 4 to 0. The Astros take the field. Pitcher Lance McCullers is on the mound throwing curveballs.
He strikes out Yankees shortstop Didi Gregorius. One out.
McCullers attacks the plate with a dirt-diving curveball. Sanchez strikes out.
Two down. The fans are standing.
They are screaming. Bases are empty.
One out remains. McCullers throws another curveball to batter Greg Bird, and the Yankees, have trouble with the curve.
It is a fly ball, center field. Springer catches the ball.
Third out. The fans go wild.
Astros win, Astros win, Astros win.
The city of Houston starts singing and dancing in the streets. 
American League Champs.
And that is just the way it is.