James Younger has Been Saved - Judge Prevents Chemical Castration of 7 Year Old!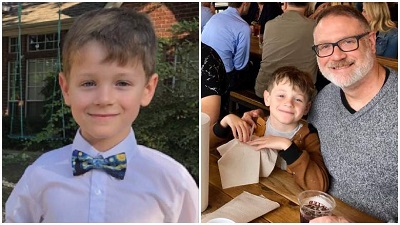 Breaking news out of Dallas County, TX as Judge Kim Cooks saved James Younger today by ruling to give Jeff Younger joint equal medical decision making for his son James Younger with Jeff's ex wife Anne Georgulas in a custody case that has taken the nation by storm due to the James's mother seeking sole custody decision making with the intent to chemically castrate her 7 year old son whom she says is a girl.
Although Jeff Younger has a gag order in place that will prevent him from speaking about the situation, this Facebook live video of Jeff Younger walking out of the courthouse with watery eyes and a big smile says it all.
This is a shocking turn of events due to a jury having ruled late last week to give James's mother sole custody. Thankfully the cries of the state and nation were heard and the Judge Kim Cooks did the right thing to rule in favor of the father Jeffery Younger having a say in medical decisions of James, which effectively prevent the mother from Chemically castrating their son James.
The story of Jeff Younger and his son James Younger has taken the nation by storm in a very short period of time with hundreds of thousands signing petitions to #SaveJames and many national conservative figures and state politicians including Texas Governor Greg Abbott and Senator Ted Cruz publicly commenting on #ProtectJamesYounger public outcries.
This is not an issue of whether or not people should or can say they are a different gender than what they were born with. This is an issue because a 7 year old does not have the mental capacity to make a life changing and irreversible decision, which some say was only pushed onto him by his mother. When James is an adult he certainly can make his own decisions, but right now he is a child and to chemically castrate him would be nothing short of child abuse, and could ruin his life when he gets older is he didn't really want it but can no longer reverse the damage. Let the kid grow up and then he can decide what he wants to do with his life.
Many equal shared parenting activists, father's rights activists, and pro life and otherwise conservative activists were at the courtroom today to witness the decision by the judge. This breaking news which I am posting about now is not in writing yet, but I am able to bring you these details thanks to the efforts of those who were there to witness the decision today, including Americans for Parental Equality, Jeff Morgan, and Connie Sue who posted updates and videos of the events as they unfolded.