McCaul Holds Roundtable with Industry, Government Leaders on his Global Childhood Cancer Initiative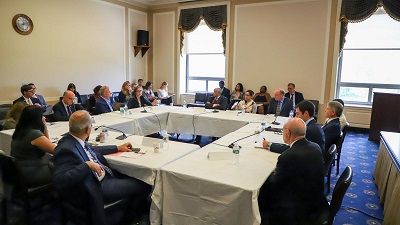 I, the Lead Republican on the Foreign Affairs Committee and the Chairman Emeritus on the House Homeland Security Committee, led a roundtable with representatives from NGOs, pharmaceuticals, and hospitals. The discussion centered on the current scope of private-sector childhood cancer initiatives in Africa and the opportunities for public-private partnerships to fight the scourge of childhood cancer globally.
Over a decade ago, I founded the Childhood Cancer Caucus to serve as a voice for childhood cancer advocates who did not have lobbyists working the halls of Congress on their behalf. The Caucus has been incredibly successful since then: passing the Creating Hope Act, the RACE for Children Act, and the Childhood Cancer STAR Act. 
The United States has been successful with over an 80 percent survival rate for pediatric cancer here in the U.S., with certain forms of leukemia having a survival rate of over 90 percent. For the rest of the world, childhood cancer survival rates are far lower. Mortality rates in low middle-income countries are at 80 percent, matching the survival rate we have here in the U.S.
Portions of my prepared remarks:
"A child's survival from cancer should not be determined by where they were born. I would like to explore how we can change pediatric cancer care in Africa and where there is the possibility for engagement with those current private sector efforts and the U.S. government.
"This is not an insurmountable task.
"In 2003, at the height of the HIV/AIDS epidemic, the U.S. government came together with NGOs and the private sector to create PEPFAR.
"Last year I had the pleasure of meeting the President of Botswana at an event hosted by Dr. Poplack in Houston to discuss the global childhood cancer issues, where he told me "PEPFAR saved my country from extinction."
"Through PEPFAR we have saved over 17 million lives and, in some places, saved an entire generation of people. We have also built up health systems and supply chains across the continent.
"From a foreign policy perspective, this has created significant good will on the continent. There are diplomatic benefits to this work. 
"While our work is nowhere near finished in tackling HIV, and we still have much to do to also fight numerous other diseases such as malaria and tuberculosis, we have made tremendous strides in these areas.

"The time is ripe to explore new global health challenges such as pediatric cancer.
"If we leverage our existing investments and the private sector, take what we have learned from saving lives throughout Africa for over two decades, and use the infrastructure we have built, I believe we can make a real impact.
"There is no silver bullet to fix this issue – and we will have to come together – as both the public sector and the private sector, identify the three or four areas that could vastly improve the current course of treatment for children with cancer, and see if we can make a difference.
"I look forward to hearing from everyone here today, and I would like to start this discussion by defining the problem, what is being done, and lead into a discussion of how we can all work together to make real change."

Attendees at the roundtable included:
Dr. Carlos Rodriguez-Galindo, Director, St. Jude Global
Dr. David Poplack, Director, Global HOPE (Hematology Oncology Pediatric Excellence), Texas Children's Cancer and Hematology Centers
John Damonti, President, Bristol-Myers Squibb Foundation
Ruth Hoffman, Chair, Childhood Cancer International
Amalia Adler-Waxman, VP, Global Partnerships, TEVA Pharmaceuticals
Thomas Tighe, President & CEO, Direct Relief 
Angeli Achrekar, Acting Principal Deputy Coordinator, Office of Global AIDS Coordinator, U.S. State Department
Kelly Saldaña, Director of the Office of Health Systems, USAID's Bureau for Global Health
Dr. Samuel Adeniyi-Jones, Africa Director, HHS Office of Global Affairs
Thomas Hastings, Deputy Director, Southern Africa Affairs, U.S. State Department