A Piece Of Home This Christmas
by Ted Poe
on December 21, 2014 at 9:37 AM
---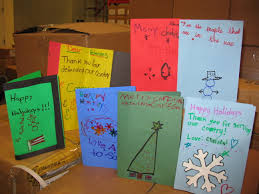 The United States has our military all over the world, and we have for a good number of years. In fact, the United States has been at war for a long, long time.
This year, as we approach Christmas, families across America will gather around to enjoy homemade apple pie and turkey and each other's company, but our men and women in uniform, those volunteers, are still all over the world, protecting and representing the United States. These are America's best. It is the best we have in our country.
In 2005, I had the opportunity to go over to Iraq and see our military during the Christmas season. But before I left, I decided I would ask local schoolchildren and their teachers to help make some homemade Christmas cards and holiday cards to give to our troops when I arrived in Iraq.
So that year, after I landed, I took about 5,000 handmade Christmas cards--made primarily by schoolchildren--to our servicemen and -women in Iraq and also in Kosovo. Since that time, children in southeast Texas have been making handmade Christmas cards and holiday cards for our troops in Afghanistan and Iraq and other parts of the world every year, and these cards are either taken overseas by me or they are shipped.
This year, the community in southeast Texas and the schools rallied, and the result is quite outstanding. I am proud to say that this holiday season we will be sending 96,000 handmade Christmas cards and holiday cards to our troops in Afghanistan, Iraq, and other parts of the world, primarily made by schoolkids in southeast Texas. Remember these are handmade cards. These are not store-bought cards.
These cards were received from various Texas residents. Just to name a few: Kingwood High School, Sterling Middle School, Timberwood Middle School, Goose Creek Memorial High School, Alamo Elementary, Horace Mann Junior High, the Hi Neighbor Club in Kingwood, Houston Methodist Hospital, Baytown Chamber of Commerce, the Baytown school district, the Baytown Housing Authority, Victory Hospital, and Boy Scout and Girl Scout clubs in southeast Texas.
80,000 of these came from the city of Baytown alone. So a big "thank you'' to Rikki Wheeler, the executive vice president of the Baytown Chamber of Commerce, as well as to the Baytown schools, hospitals, and organizations for their remarkable contribution and organizing and managing the collection of these cards.
The patriotic spirit of those folks in southeast Texas to me is quite heartwarming, and the outpouring of support from Texans, primarily schoolchildren, is quite exceptional.
I want to thank all of those who have taken the time to bring joy to our troops in lands that are far, far away, those troops who will be separated from their families this Christmas. It is because of the schools, the teachers, and the schoolchildren that this is all made possible every year.
This is a way that people in southeast Texas show appreciation to our troops who are separated from their families this time of the year. Remembering to thank them and send them special greetings is very important.
Many of these schoolchildren have family members overseas who are serving in the military, and this small gesture brings comfort and cheer to all of those involved. A piece of home will mean so much to those who are representing us overseas, and it is possible only because the community volunteers to do this each year.
The simple act of making a handmade card shows the connection between our warriors and our schoolchildren who are thinking about them this time of year. So this Christmas, as Americans celebrate, we remember to say a prayer for those who safeguard America's freedoms.
We thank our volunteers in uniform, and we thank our volunteers who made this season quite special for our military by making these cards.
And that is just the way it is.