Republicans and US Citizens Call for Elimination of CARES Act Marriage Penalty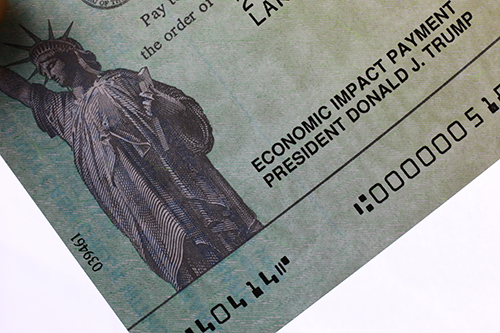 Most Americans with a gross income under $99,000 received and benefitted from the economic impact payments included in the CARES Act passed in late March, but around 1.7 million Americans were denied benefits under the bill because they filed taxes jointly with a spouse who used an individual tax identification number instead of a social security number.
In a recent press conference hosted by the American Business Immigration Coalition, Republican business and political leaders joined US citizens in families with mixed immigration statuses in calling on Congress to pass legislation to eliminate the "marriage penalty" in the CARES Act, which prevented US citizens from receiving their individual economic impact payment if they filed taxes jointly with an unauthorized immigrant spouse in 2018. They also called on Congress to pass a second stimulus bill.​ 
"Denying U.S. citizens and their children essential relief during a pandemic is morally wrong and economically harmful. I urge our leaders in Congress to deliver a COVID relief package that lifts up all American families who need help in these uncertain times," said Woody L. Hunt, Senior Chairman of Hunt Companies Inc. Board of Directors, ABIC Co-Chair, and Republican donor.  
"As a Republican, I was deeply disappointed when I learned that this exclusion wasn't an oversight, but something that some Republicans insisted on. This is not a time for political grandstanding. Too many American families need financial assistance right now, and excluding them from COVID-relief will slow and complicate our road to economic recovery," Hunt added.
"Congress' inaction over the past months has hurt our communities, our small businesses and local economies, and our nation's ability to recover. These families can't wait until after the election. They need relief now. It is immoral to punish them for who they love. Moreover, it is politically unwise to isolate voting taxpayers so close to the election, especially in battleground states like Florida. I urge our elected officials to take heed and act now before it is too late," said Al Cárdenas, Former Chairman of the Florida Republican Party & ABIC Co-Chair.
Patty Ramirez, a US citizen and Texas voter who works at a hospital but has been struggling to provide for her two kids while her husband is stuck in Mexico waiting for his immigration interview, said that the economic impact payment would help her greatly, and that being excluded from the CARES Act didn't feel right.
"I thought that a stimulus check from our government would alleviate my worries, but when I found out that I did not qualify for a payment, I felt like an outcast in my own country. Even though I've done everything that's required of me and followed all the rules, I feel like a second-class citizen," Ramirez said.
By eliminating the marriage penalty in the CARES Act, an estimated 291,000 US citizens and lawful permanent residents (LPRs) living in Texas would receive the stimulus checks they were originally denied because of their spouse's immigration status. They could receive $1200 and an additional $500 per citizen or LPR child they have. There are an estimated 318,000 such children. That would add up to $508.2 million of potential spending power for these families living in Texas.
While Democrat and Republican lawmakers have yet to come to an agreement on a second stimulus bill, there is a proposed amendment in the Senate called the American Citizen Coronavirus Relief Act, that would remove the marriage penalty and send retroactive payments to the 1.7 Americans who were excluded from the first round of payments as a result of the penalty. Texas Senator John Cornyn is one of seven Republican co-sponsors of the bill, which was introduced and referred to the Committee on Finance on June 25th and has not been acted on since.