Ribbon Cutting at US Coast Guard Valent Hall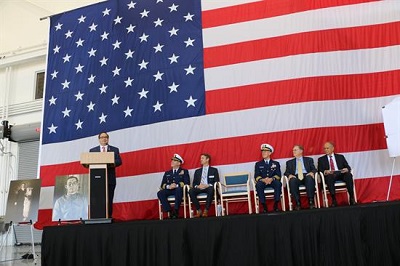 This week I spoke at the ribbon cutting ceremony for the opening of the USCG Valent Hall. After working on this project for many years, I am glad to see it finally came to fruition. It was scheduled to be completed about two years ago, but the process got bogged down due to disagreements between the U.S. General Services Administration, the Coast Guard, and the developer. I brought all the parties together and worked on finding a compromise so this important project could be completed.

Valent Hall is named after Pablo Valent, a Corpus Christi native. Valent served in the Coast Guard in the 1900s spending most of his career at the Brazos Coast Guard Station. He was the first Hispanic-American to command a boat station in 1935 and was responsible for the rescue of an eight-man crew whose schooner, Cape Horn, capsized during a hurricane in 1919 earning him the Coast Guard's Silver Life Saving Medal. It was a privilege having the great nephew of Pablo Valent, Adolfo Garza, in attendance for the opening of Valent Hall. The new facility will meet the needs of the Coast Guard for the foreseeable future and in a much more cost-efficient matter.