Safe Walk Home Northside
by Ted Poe
on May 15, 2018 at 9:42 AM
---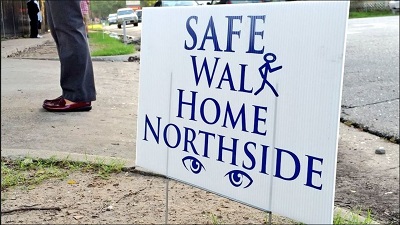 The skies of Houston, Texas were filled with ominous clouds on May 17, 2016. The school bell rang, dismissing students from John Marshall Middle School.
Josue Flores usually would have headed home, but instead he stayed after hours, participating in a science club celebration. After all, Josue wanted to be a doctor, science was his passion. 
As the celebration wound down, Josue headed home, making the trek along the streets on the North side of Houston. Little did he know that it would be the last time he ever walked home. 
A criminal approached the young boy, stopping him in his tracks. The evil murderer proceeded to stab him over and over and over again—twenty times in all. Josue's senseless and brutal death shocked the entire community. 
The clouds pressed down heavier, the death of an innocent child weighing on everyone's mind. No child should be in danger by simply walking home from school. In the weeks following Josue's death, his community took action—the senseless violence must end.
Soon, the ''Safe Walk Home Northside'' program was organized by Stella Mireles-Walters. A group of 100 volunteers stepped forward, determined to keep our children safe.
A Safe Walk Home Northside aims for every resident or person in the area to keep an eye out for the children as they walk to and from school.
It is because of their dedication and effort, that parents, local store employees, and many others have started to assist in guarding the streets during school hours.
As a former judge in Houston, I have always been impressed the way neighbors take care of neighbors in Houston. The Safe Walk Home program has already begun making an impact and changes are evident in the community. 
Recently, Houstonian Cecilia Ruiz, helped law enforcement stop a kidnapper, intent on kidnapping a young teenage girl. Ruiz witnessed the young girl being forced into a vehicle as she walked down the sidewalk to school. 
A mother herself, Ruiz's instincts kicked in. She sprang into action: Ruiz and her daughter didn't just call 911, they stopped the perpetrator, bringing the young girl safe into their arms. 
Any good southerner knows that one of the biggest mistakes you can make is to underestimate a Texas woman. But apparently, the dastardly criminal hadn't quite learned his lesson yet. 
As the villain fled the scene of the crime, the mother-daughter duo made chase, tracking the vehicle through a high-speed pursuit and recording the license plates.
It wasn't until the vehicle fell into a ditch and the police arrived, that she felt her good Samaritan duties were fulfilled. I repeat, never underestimate a Texas woman. 
Today, there is one less missing person's face haunting the dreams of Houston Police Department's finest, all because Cecila Ruiz took action; one more perpetrator behind bars. 
Programs like a Safe Walk Home Northside are building our communities and ensuring that stories like Josue Flores never happen again.
And that's just the way it is.