Saluting Our Military with Special Guest Rep. Mac Thornberry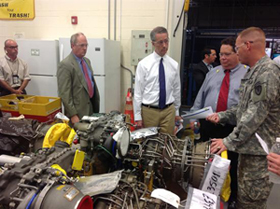 I recently invited Congressman Mac Thornberry (TX-13), fellow Texan and Vice Chairman of the House Armed Services Committee, to visit the 27th District to get a personal glimpse into the outstanding work of our service men and women here at home. I was pleased when he took me up on my offer by joining me at the 5th annual "Salute the Military" Luncheon in Corpus Christi. We also met with members of the South Texas Military Task Force that has been an advocate for our area bases. The Task Force has done an incredible job of communicating the concerns of the Naval Air Station (NASCC) and the Army Depot (CCAD) in Corpus Christi to, not only the local business community, but also our political leaders in Austin and Washington, D.C.
During the visit, Mac and I toured both NASCC and CCAD and met with CCAD Commander Colonel Garner Pogue, NASCC Commanding Officer Captain Dave Edgecomb and Rear Admiral Mark Leavitt, Chief of Naval Air Training. As Vice Chairman of the Armed Services Committee, Congressman Thornberry plays a critical role in military funding. This visit gave Mac a first-hand look at the hard working men and women at NASCC and CCAD and their contributions to our community and our country.