Season 10 Fireball Run 'Anniversary Edition' Premieres on Amazon Prime Featuring Two Collin County Elected Officials as Team #99 "Smokey & the Commish"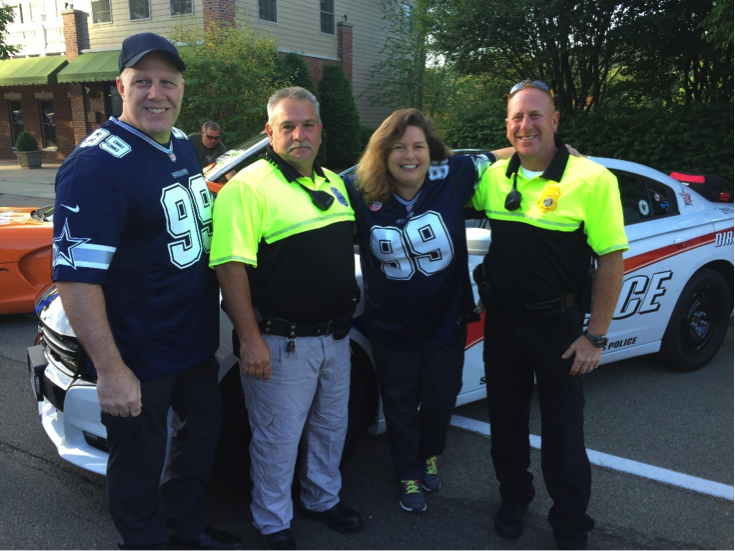 The much-anticipated tenth season of the Fireball Run television series has premiered on Amazon Prime / Amazon Video.  The 26-episode adventure-travel series traverses from Western New York to Massachusetts. Season 10, titled Anniversary Edition, spotlights the extraordinary history, sights, attractions, and people of under-discovered America while also aiding in the nation's largest recovery effort for missing and exploited children.
Fireball Run chronicles the adventurous journey of 40 driving teams as they receive several clues, which if solved, lead to rare, historic, or epic experiences.  Participating in the season 10 series are local Collin County elected officials Commissioner Susan Fletcher and Constable Joe Wright, competing as team number 99 "Smokey & the Commish," hailing from Frisco and McKinney respectively. Also participating in the anniversary edition is Frisco City Councilman John Keating, who brought on Commissioner Fletcher as a teammate and co-driver in season 9.  They joined a cast of over 100 participants, dashing to cities within the Northeastern United States, competing in a new 2017 Dodge Charger, equipped with the full complement of police additions, graciously loaned to the team by Dodge.  Along with the official sponsor decals, the team honored and memorialized the five Dallas officers who were killed in the line of duty on July 7, 2016, by displaying each of their badges on the hood of their competition vehicle.  "It was such a privilege to participate in honor of the Dallas five, and we must never forget those who have selflessly given all, and the choices that public safety officers make each day in order to protect the public," said Fletcher.  Constable Wright added, "We were an encouragement to hundreds of law enforcement officers throughout the event, with some even stopping up along the way, just to get photos of the car as we came through town." 
More than just great entertainment, since 2007 the series has leveraged its exposure to support Child Rescue Network, a 501(c)(3) charity in a Race To Recover America's Missing Children. Each contestant team is assigned a missing child from their local region, and provided 1,000 posters featuring their sponsored child, which are then distributed along the 2,000-mile, ten-day live production. The series has since aided in the successful recovery of 50 missing children.  
Team "Smokey & the Commish" was assigned the case of Amber Nichole Crum, who has been missing since December 26, 1983 from Dallas, TX. "It's important that we never give up, even on cold cases, because there is a family out there that still doesn't know what happened.  Somebody knows.  Just imagine that feeling that so many of us had when you temporarily lost your child at the department store, and it never going away," said Commissioner Fletcher. Co-Driver Constable Wright added, "It's also important to create public awareness, not only in Amber's case, but for missing children across the nation.  If citizens see anything that appears unusual, or that something may not be right, they should take note, ask questions, and report unresolved concerns to the proper authorities."   Last fall, during the filming of season 11, Team #99 learned that there was a possible break in the missing child case of Amber Nichole Crum.  Authorities are in the process of following up on credible leads at this time.
Best described as a contest, history, and travel show combined, Fireball Run differs significantly from Reality TV. The Factual Entertainment series is filmed authentically in real-time, then edited into an exciting 26-episode series that entertains while educating viewers about amazing sites and attractions visited and experienced by show contestants.
No easy task; solving the clues often involves assistance from a strong support team of fans, family, friends. How well did local team "Smokey & the Commish" score? You'll have to watch to find out!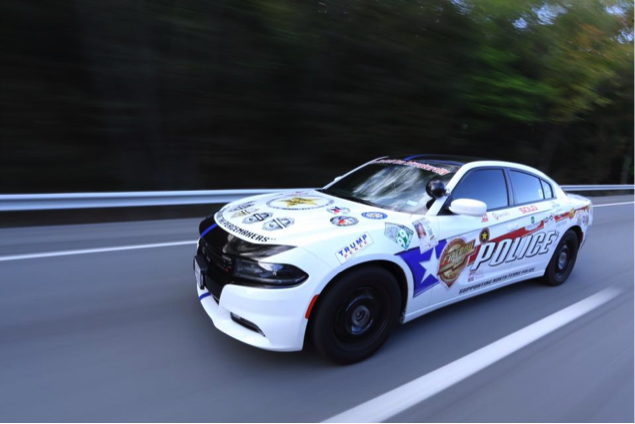 Team #99 – Smokey & the Commish Competition Vehicle – 2017 Dodge Charger
The hood of the competition vehicle – with the badges of the Dallas Five, as well as the police organizations who helped sponsor the car.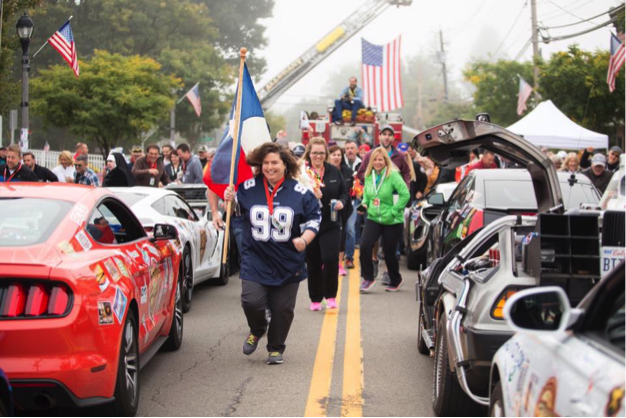 Commissioner Fletcher running with the Texas Flag for the morning starting gun
Final finish line – Amesbury, Mass.
Commissioner Fletcher and Frisco Councilman John Keating prepare to lead the national anthem.  When there was not a flag on site, Councilman Keating provided his phone cover, so that the flag could appropriately be honored.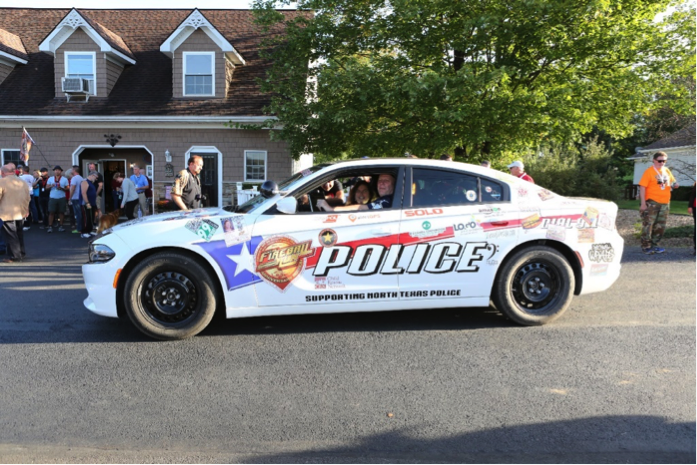 Commissioner Fletcher and Constable Wright rolling into the finish line for the day, located at Starr Hill Winery, in Curwensville, PA
Constable Wright, about to compete in one of the challenges by using a fire hose to knock down bowling pins.  *As a law enforcement officer, he "might" have grumbled just a tad, because he had to don Fireman gear!
Constable Wright and Commissioner Fletcher in a blacksmith shop, working the metal to get points for their mission.