Seeking Jesus VII – In The Holy Land - The Mount Of Olives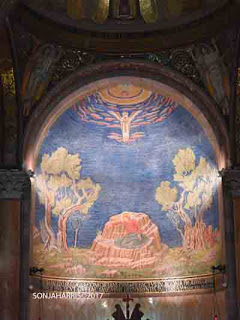 Holy Week is the holiest of times for Christians worldwide.  Seeing the Notre Dame Cathedral fall during this time was heart wrenching to watch for many reasons.  First and foremost it is a historic landmark for Catholics.  It not only houses magnificent art pieces but treasured relics: the Crown of Thorns, a 3.5 inch nail and a 9.5 inch fragment from the crucified cross and the most precious Holy Eucharist.   The Crown of Thorns including the Holy Eucharist were brought out and saved by a courageous priest.  The fact that I have not personally experienced its beauty saddened me further. 
My thoughts easily drifted to the Holy Land and our trip in 2017. It's been a year since I wrote about our pilgrimage to the Holy Land, Seeking Jesus.  With our world seemingly at the edge of self-destruction, I look for any sign that will restore our reliance in Jesus Christ.  The Resurrection is a few days away and my heart aches for the return of Love for Christ and our fellowmen.   Not an easy task in the era of negativity and secularism.  At a time when Christians are persecuted and 'modern' day Christians have little or no understanding of the bible or what it means to be Christian.  A time when infanticide is applauded and same-sex marriage is paraded proudly, I wonder what awaits us if we continue on this path.
Everything that is happening now reminds me of the suffering, the isolation our Lord endured for our sins in the Sacred Pit (Seeking Jesus VI) sitting all alone in a dark 40 ft. deep cave without any human contact following his arrest and trial on Holy Thursday.  All the time knowing what Friday would bring.
Visiting the Holy Land is a memory now, so I feel pressured to write Seeking Jesus VII before all recollection has faded.  On the final day of our pilgrimage, we travelled to The Church of All Nations and the Mount of Olives.  The windows are purple and the church is dimly lit to remind us of Christ's suffering.   Upon entering the church there is a magnificent painting over the altar of Christ in the garden.  A huge stone in front of the altar is enclosed by an iron wreath in the form of a crown of thorns and is where our Lord spent his time before he was betrayed and arrested.   That time is referred to as his Hour of Agony. 
The olives trees, many one thousand years old, are still there.  The Garden of Gethsemane is a beautiful quiet place filled with these olive trees where our Lord took refuge in praying, knowing what was to take place.  It was here in the Garden of Gethsemane that our Lord asked his apostles to sit and wait for him and asked Peter, James and John to keep watch while he prayed.  He knew that the hour had come and he was going to be betrayed and arrested. 
Luke 22:44
THE AGONY IN THE GARDEN
He was in such agony and he prayed so fervently that his sweat became like drops of blood falling on the ground.
Mark 14:32-45
THE AGONY IN THE GARDEN   
Then they came to a place named Gethsemane, and he said to his disciples, "sit here while I pray."  He took with him Peter, James, and John, and began to be troubled and distressed.  Then he said to them, "My soul is sorrowful even to death.  Remain here and keep watch." He advanced a little and fell to the ground and prayed that if it were possible the hour might pass by him; he said, "Abba, Father, all things are possible to you.  Take this cup away from me, but not what I will but what you will."  When he returned he found them asleep.  He said to Peter, "Simon are you asleep?  Could you not keep watch for one hour?  Watch and pray that you may not undergo the test.  The spirit is willing but the flesh is weak."  Withdrawing again, he prayed, saying the same thing.  Then he returned once more and found them asleep, for they could not keep their eyes open and did not know what to answer him.  He returned a third time, "Are you sleeping and taking your rest?  It is enough.  The hour has come.  Behold, the Son of Man is to be handed over to sinners.  Get up, let us go.  See, my betrayer is at hand." 
THE BETRAYAL AND ARREST OF JESUS
Then, while he was still speaking, Judas, one of the twelve, arrived, accompanied by a crowd with swords and clubs who had come from the chief priests, the scribes, and the elders.  His betrayer had arranged a signal with them saying, "The man I shall kiss is the one; arrest him and lead him away securely."  He came and immediately went over to him and said, "Rabbi."  And he kissed him. 
To reach our next destination at The Mount of Olives, we had to descend some steep steps to enter a cave with the word Gethsemane above the entrance.  The grottos or caves were always cool and irregular in shape with the huge stones exposed.  An altar has been erected for the purpose of celebrating mass.   This grotto is believed to be the place where Jesus spent time with his apostles praying and teaching them. 
We attended mass most every day and were also fortunate to hear mass in this grotto.  What struck me was the frequency of the masses being said, one after another to accommodate so many pilgrims.  What a beautiful experience!
John 17:1-5
THE PRAYER OF JESUS
… "Father, the hour has come. Give glory to your son, so that your son may glorify you, just as you gave him authority over all people, so that he may give eternal life to all you gave him. Now his is eternal life, that they should know you, the only true God, and the one whom you sent, Jesus Christ.  I glorified you on earth by accomplishing the work that you gave me to do.  Now glorify me, Father, with you, with the glory that I had with you before the world began."
With Easter upon us, I am reminded of Jesus's words, "Could you not keep watch for one hour?"
Wishing you a Blessed Easter.