Sen. Cruz Meets with Families of CITGO Executives Held Hostage in Venezuela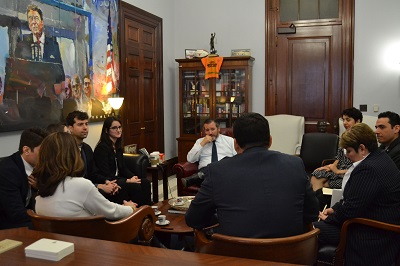 I, member of the Senate Foreign Relations Committee, yesterday met with family members of six CITGO executives, five of whom are from Texas, currently being held hostage by the Nicolás Maduro regime in Venezuela. Since November 2017, the regime has held hostage CITGO's former vice president for refining Tomeu Vadell, former vice president for supply Jorge Toledo, former vice president for shared services Jose Luis Zambrano, former Corpus Christi refinery director Alirio Zambrano, and former head of public affairs Gustavo Cardenas. I have repeatedly spoken out against the unlawful imprisonment of these Americans, and recently urged the new Venezuelan government to work with the U.S. to secure their safe return.
Video and still photos of my remarks from his meeting today may be viewed here.
I spent the morning meeting with the families of the 'CITGO six.' These are six American citizens who are being wrongfully imprisoned in Venezuela. For over a year, they've been imprisoned. Their families have been praying for them, have been worried, have been speaking out. They haven't spoken to them in nearly a month, as communications have been cut off. They've seen their family members drop weight precipitously. They're kept away from sunlight--often away from human contact, denied basic human rights. It has been too long. They are hostages being persecuted and Maduro needs to release them. Maduro needs to release the 'CITGO six.' They need to come home. Come home to America. 
Maduro is a cruel dictator abusing the Venezuelan people. But he is also holding Americans hostage. The United States government shouldn't stand for Americans being held hostage. I stand in solidarity with the 'CITGO six,' and with the families of these men being wrongfully persecuted. We will continue using every diplomatic lever, every economic lever--every lever we have to bring the 'CITGO six' home.
Then I continued highlighting my stance against the oppressive Maduro regime, and my commitment to securing the safe return home for the 'CITGO six.'
I have been talking--leaning on the State Department and the U.S. government--to press Maduro to release these American citizens. Holding Americans hostage is unacceptable. It is an act of hostility against basic human rights but it's also an act of hostility against the United States of America-- and we shouldn't stand for it. One of the things I'm working vigorously in the Senate Foreign Relations Committee to do is establish both carrots and sticks for those generals. The sticks are: if they continue to stand with Maduro, an illegitimate oppressive dictator, then those generals--their families will face sanctions. They personally, if they make that decision, will be choosing to stand on the wrong side of history. And that is a decision that will haunt them for the rest of their lives. On the other hand, if the generals make the right decision, that they're going to respect the rule of law, they're going to respect the Venezuelan constitution--they're going to stand with the people of Venezuelan people and the legitimate government of Venezuela. That decision will benefit them personally, and it will benefit their families personally. It's the right thing to do. Nothing will have a greater impact on whether the Maduro dictatorship continues than the decision of those military leaders. This is one aspect of it. Is a government that holds Americans hostage, that mistreats them--that's not a side of history that those generals should want to be on. And I am going to continue doing everything within my power, and urging the American government to do everything within our power collectively to bring them home, and to see the people of Venezuela have hope for the future.