Shilo Harris, More Than a True American Hero: A Leader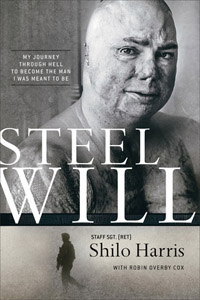 Many Texans have already heard of Texan Ret. Staff Sgt. S​hilo Harris. He is an incredible human being, and I believe Shilo Harris is more than a true American hero: he is a leader. Staff Sergeant Shilo Harris' Humvee hit an IED while on patrol in Iraq in February of 2007. In that blast, he lost his ears, part of his nose, some fingers and over a third of the skin on his body. He also lost three of his best friends. What followed was an agonizing road to recovery, which began with nearly two months in a medically-induced coma. During that time, he experienced a version of hell so terrifying, the memories still haunt him today. Harris shares his inspiring story in his memoir, Steel Will: My Journey Through Hell to Become the Man I was Meant to Be (September 1, 2014; Baker Books).
"I am a man who has lived through hell. It is hard to share this experience. The carnage. The devastation. The loss. But I will do it. Because I will always know the horrors of war," writes Harris. "I will tell you what an explosion does to you on the outside. And I will tell you what an explosion does to you on the inside. And I will demonstrate what it means to live fearlessly, with a clear understanding of the Grace that can redeem mayhem."
Shilo recently appeared on The Huckabee Show. If you did not catch the segment, here is the video.
Shilo is firm on his position on regards to ISIS:
ISIS doesnt scare me. I am "100% American Badass" thanks to my dad and my military training. I am one of millions of combat hardened American Heroes (Badasses) we call veterans. We are all waiting for SISI to come if they dare. SISI is a bunch of thugs that kill unarmed men and women. Thats right, SISI (pronounced SISSY!). Theyre hypocrites using the same technologies they oppose to promote their agenda of hate. They are taking advantage of a war torn country, using the media to promote sadistic tactics to scare anyone that may oppose them. When they face real soldiers, Americas men and women in uniform, they will lose.

Even though SISI is a threat to the weak and unarmed and are destroying peoples lives in a large area of the middle east, the truth threat lies right here in the US. Our borders have been a freeway for whoever wants to cross them, except of course our Marine Andrew Tahmooressi who is still being detained in Mexico.

The fact that we have motivated individuals here in the US willing to join the ranks of SISI and do harm to our families and innocent people on US soil is beyond my comprehension. We cannot allow another 9-11 style attack. We need more boots on the ground in the middle east so we can find out where the enemy is so we can destroy the core of the sadistic infestation of terroristic ideology.

I am a retired SSG, not a General or former intelligence officer. How many troops on the ground are above my pay grade, but if I was going to send anyone, I would send a division of Cavalry and Infantry to squash these chumps. We have the firepower. We have the most professional fighting force in the world.

I was at the Minot Air Forde Base, ND this week, and have experienced some of the most professional airmen this nation has to offer. I have seen some of the awesome firepower we have available, and it gives me reassurance that we can handle any threat that comes our way from anyone. It is time to act. Secure the borders. Attack the enemy before they can attack us.
A few months ago when I running for the Texas House of Representatives, I had the blessing of receiving the support and the endorsement of many great Americans. Among them were many veterans, including Ret. Staff Sgt. Shiloh Harris. I encourage each one of you to purchase Steel Will: My Journey through Hell to Become the Man I Was Meant to Be.