Texan: Army Private First Class Kristian Menchaca— Member Of The Band Of Brothers
by Ted Poe
on October 17, 2018 at 7:39 AM
---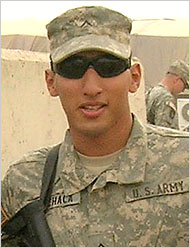 The 101st Airborne of the United States Army is otherwise known as the Band of Brothers. They were called the Screaming Eagles of World War II. They held off the Germans in the battle of the Bulge. Their legacy was continued, as the 101st remained on duty in the blistering heat of Iraq during Operation Iraqi Freedom. Once again fighting the forces of tyranny and terrorism.
Twenty-three year old Kristian Menchaca was born May 29, 1983, in my hometown of Houston, Texas. He moved to Brownsville with his mother, Maria Guadalupe Vasquez, when he was a young boy.
He attended Gary Job Corps center in San Marcos, TX, where he completed the correctional officers training program in six months and earned a certificate. Kristian Menchaca told his family Christmas Day, 2004 that he planned to enlist. They tried to talk him out of it, but Kristian Menchaca insisted, and his family came around.
He had the goal of using his military experience to become a Border Patrol agent. He scored so high on his entrance test that he was given the option to bypass the infantry. He chose not to do that. Instead, he signed up in March 2005 and wound up in the 101st Airborne. He married his wife, Christina, three weeks before he was deployed with the United States Army. The Army turned Kristian Menchaca's life around. It gave him a greater purpose, a higher calling.
In June of 2006, at an outpost near Baghdad, American volunteers of the 101st found themselves surrounded and attacked by the enemy. One soldier, Specialist David Babineau, was killed in the skirmish. Private First Class Kristian Menchaca and Private First Class Thomas Tucker were kidnapped, captured, and later, murdered.
He left behind a wife, a family, and a lot of grateful Americans.
This enemy we fought in the desert sands of Iraq and Afghanistan were evil villains who oppose our righteous and just cause to proclaim freedom throughout the world. These terrorists took no prisoners.
They had no POW camps. News reports claimed the attackers of the outpost all wore masks to cover their faces.
Outlaws and bandits of the Old West wore masks to disguise who they were because they, like these terrorists, covered up their wicked intentions of destruction of everything that is good and right. But just like those outlaws, these criminals were hunted, tracked, and brought to a speedy end, because the 101st brought justice to the hot hills of Iraq.
Shakespeare said of the brothers in Henry V how they will be regarded. He said, ''From this day to the ending of the world, but we in it shall be remembered; we few, we happy few, we band of brothers; for he today that sheds his blood with me shall be my brother.''
Private First Class Kristian Menchaca was later awarded the Purple Heart, the Bronze Star and a Prisoner of War Medal.
We continue to honor Private First Class Kristian Menchaca and the Band of Brothers— the unyielding warriors that proved strongest against terror.
And that's just the way it is.