Texas can Take Care of Texans! - We don't need your FEMA Dollars, Mr. President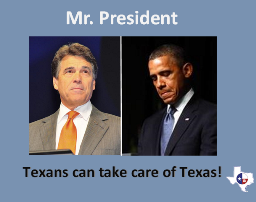 Like most of you, I was very disgusted to learn that last week Obama's Federal Emergency Management Agency turned down Governor Perry's request for emergency aid for the devastated town of West. We shouldn't have been surprised.  Look how he dragged his feet when Texas was in flames last summer. Unfortunately, we have found time and time again, it seems there is no low this president won't sink to in order to make his desire for political retribution against the Lone Star State known.
In a letter that was obtained by the Associated Press, FEMA said it reviewed the state's appeal to help but decided that the explosion in West "is not of the severity and magnitude that warrants a major disaster declaration." The Christian Science Monitor reported that "FEMA said the agency and the US Small Business Administration have approved more than $7 million in aid and low-interest loans to West residents impacted by the blast, which killed 15 people. FEMA also is paying 75 percent of the costs of debris removal and will reimburse the state and the municipality for the initial emergency response."
In the grand scheme of things, we're really not talking about that much money. The state is requesting $57 million in help from Uncle Sam to help rebuild the small Central Texas town.  
At the memorial for the West victims in Waco, President Obama himself said:
"You are not forgotten. We may not all live here in Texas, but we're neighbors, too. We're Americans, too, and we stand with you, and we do not forget. And we'll be there even after the cameras leave and after the attention turns elsewhere. Your country will remain ever ready to help you recover and rebuild and reclaim your community."
So now that we know Obama, once again, isn't going to live up to his word, the ball is in Governor Perry's court. I'm as outraged as he is to see this administration turn its back on this community. But, we're Texans. We don't wait around for Washington when we can solve the problem ourselves. Heck, the feds don't have any money anyway. Why should we ask them to add to the exploding federal debt?
It's okay Mr. President... Texas can take care of our fellow Texans!
If President Obama is going to abandon these folks, then the Governor should tell lawmakers to take $57 million from the state's Rainy Day Fund for West's aid. It's a more fiscally conservative way to do it anyway. Washington would have to borrow the money, the way they do with everything. Texas has the cash right now in the bank. We can, and should, write the check and not owe anyone anything. Isn't this exactly the kind of thing the Rainy Day Fund was created for: One-time expenses and not ongoing government expenditures?
The Legislature is in Special Session for another couple of weeks. Governor Perry is the only person who can legally add topics to the call. He should do that today, and in a few days both the House and Senate could act to help the people who Obama, despite his pretty rhetoric, has already forgotten.
Please contact Governor Perry, Lt. Governor Dewhurst, and Speaker Straus and let them know we Texans take care of our own. And next time, tell Obama he isn't welcome for photo ops...
---
Related Content: Waivers granted for debts on disaster aid payments due to FEMA error following Hurricanes Katrina, Rita, Wilma and Ike