Texas Congressmen join forces to keep 'so help me God' in Cadet Honor Oath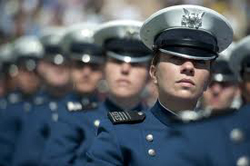 In response to the U.S. Air Force Academy's unilateral decision to make the phrase, 'so help me God' of the Cadet Honor Oath optional, I introduced H.R. 3416, a bill that would require congressional approval prior to any change to Oaths of Office. I was joined by original co-sponsor Congressman Pete Olson (TX-22).
Our Founding Fathers declared we are, "One nation under God," and you better believe I'll fight like mad to keep it that way. I can tell you from experience, there are no atheists in foxholes. We are the land of the free because of the brave. Many people don't know this, but when you survive a near-death experience, you realize that the only thing you had to hold on to was your faith in God.
I spent nearly 7 years as a Prisoner of War (POW) in Vietnam – more than half of that time in solitary confinement. Our captors tried to break our spirits daily. One year, a group of POWs in the prison we dubbed the Hanoi Hilton decided to defy our captors and hold a church service. They hated that we found unity and strength in God and one another. As armed guards surrounded us, a fellow POW pounced onto the poor excuse for a bed and belted out the national anthem and "God Bless America." I remember how the magnitude of the moment and the magic of the music overpowered any illness or ache. For a fleeting time, we felt strong and faithful. It was truly the greatest gift each of us had during those endless days of torture, isolation, and starvation. It's not only my experience, but that of my fellow POWs, veterans, and those currently in harm's way that make "so help me God" vital to the oath. I urge my colleagues to join this effort to protect the legacy of freedom of religion.
"It was disheartening to see the Air Force Academy succumb to anti-religious zealotry from the Military Religious Freedom Foundation (MRFF)," Pete Olson said. "As a former Navy pilot, I can speak to the value of allowing God to be present for our military men and women. The military personnel being trained to defend the rights of Americans should be able to exercise their religious convictions by affirming their oath with so help me God. What troubles me even more is that the original complaint was not made by a cadet, but a local newspaper that brought the oath to the attention of an organization hostile to freedom of faith. I urge my colleagues to join me in preserving a crucial tenet in our Constitution, the First Amendment freedom to practice religion," Olson concluded.
Background on H.R. 3416
This legislation would require congressional approval before any change may be made to the Oaths of Office for the following:
Enlisting in the Armed Forces; 
Appointment to an office in the civil service or uniformed services; or 
Appointment as a cadet or midshipman at a military service academy.