THE TEXAS DROUGHT and the GUADALUPE RIVER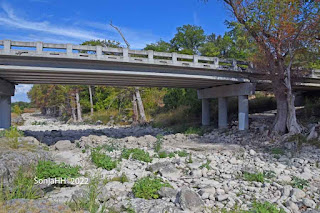 The Guadalupe River flows 230 miles from Hunt, Texas in Kerr County and winds its way to the San Antonio Bay at the Gulf of Mexico.  Since March of this year there has been a noticeable change in the water level of the river.   There are areas of the Guadalupe River that are completely dry West of Canyon Lake.  The part under FM311 and under Rebecca Creek Bridge are at zero water flow. 
 Living next to the Guadalupe River in Comal County, Smithson Valley, I'm very well aware of what happens to this quiet, but at times roaring river.  During the several floods which I have experienced, the water thunders as it flows down towards Canyon Lake.  You can hear the sound of trees cracking like they were small pieces of timber but in reality they are some large oak and cypress trees.  
The upper part of the Guadalupe is considered in the Hill Country and is smaller.  People enjoy swimming, kayaking and tubing.  Most of this activity stops at the Rebecca Creek Bridge.   Below the bridge the river flows into Canyon Lake which is considered the lower part of the Guadalupe that feeds into Gruene.  Tourists and locals alike enjoy tubing in Gruene.  Canyon Lake is known for boating, sailing, and skiing.   
Currently there is no sound coming from the river because it is exposing its river bed, totally dry because of the extreme drought we are experiencing in Texas.  Today there is zero flow. The river flow is measured in cubic feet per second or cfs.  This means that the water flowing over the gauges is measured over one second of time. 
With temperatures reaching into the 3-digits daily the drought has progressed to dangerous extreme conditions.  Even though the Hill Country has had some scattered showers lately, it has not been enough for the river to flow or to quench the Texas soil. 
Texas Governor Greg Abbott issued a disaster proclamation on July 8, 2022, and amended that declaration on July 15, 2022, certifying that exceptional drought conditions posed a threat of imminent disaster in several counties; with the exception of Orange County.  https://gov.texas.gov/news/post/governor-abbott-renews-drought-disaster-...
According to the U.S. Drought Monitor map released on Thursday, August 11, 2022 we are at D4 Exceptional Drought.  Comal County is also experiencing D4 drought conditions.  The impacts are serious and include:
Exceptional and widespread crop loss is reported; rangeland is dead; producers are not planting fields
Culling continues; producers wean calves early and liquidate herds due to importation of hay and water expenses
Seafood, forestry, tourism, and agriculture sectors report significant financial loss
Extreme sensitivity to fire danger; firework restrictions are implemented
Widespread tree mortality is reported; most wildlife species' health and population are suffering
Devastating algae blooms occur; water quality is very poor
Exceptional water shortages are noted across surface water sources; water table is declining
Boat ramps are closed; obstacles are exposed in water bodies; water levels are at or near historic lows
https://droughtmonitor.unl.edu/CurrentMap/StateDroughtMonitor.aspx?TX
The Texas drought is reaching historic proportions and is impacting our state.  This drought brings about the threat of wildfires which we have already experienced.  According to the Texas A&M Forest Service as of August 16, 2022 there are 222 counties with a Burn Ban.  There are several ACTIVE fires which include:
CW Fire, Cooke County - 346 acres, 95% contained
Lonesome Dove Fire, Palo Pinto County - 4 acres, 95% contained
Pine Pond Fire, Bastrop County - est. 700 acres, 50% contained
https://tfsweb.tamu.edu/CurrentSituation/
There is only one thing to do, pray for the blessings of Rain.