Texas Lawman—Officer David Hofer
by Ted Poe
on March 8, 2016 at 1:19 PM
---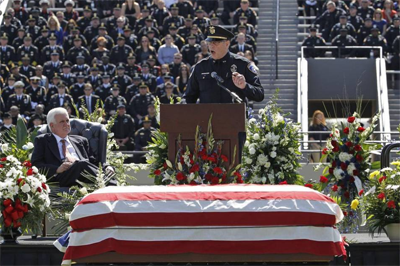 He was a son, a brother, and a soon-to-be groom. David Hofer's life was ripped from this world on March 1st, leaving behind his family and his fiancée.
Officer Hofer was 29. He was from Fort Worth, Texas. He was shot and coldly murdered after a gunfire exchange with an outlaw in a nearby park.
The criminal who gunned him down was a 22-year-old drug addict who had been released from prison that very day. Officer Hofer served with the Euless, Texas, Police Department.
He had been serving there for two years. He had previously served with the NYPD for 5 years. He dedicated his life to protecting the rest of us.
Hundreds of blue lights from patrol cars lit the way as Officer Hofer's body was transported from the hospital. This is the 16th police officer killed this year.
In fact, two officers now have been murdered in two days. We must always honor and respect and mourn the life of such valiant men and women.
The thin blue line stands strong in the face of evildoers that live among us. The men and women who wear the badge are America's best—men such as Officer David Hofer.
They sacrifice their lives to keep the homefront safe from the dregs of society, misfits, and bandits who wish to do the rest of us harm. Back the blue. Back the blue.
And that is just the way it is