Texas Tribune's Morgan Smith Writes About Pro-Life Pre-Teen Camp in New York Times Article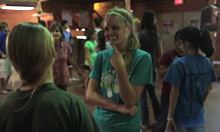 I am not a fan of the New York Times, but Texas Tribunes Morgan Smith has written a good article that has been re-printed in the New York Times.
Smith visits a Pro-Life pre-teen camp in Texas. She recorded a video about her visit and wrote an article about it. Smith gives readers a fair inside look at what goes on at this camp and the people who go there.
Melissa Pici from Texas Right To Life was very pleased at the fair coverage that their camp recieved in the article. I am too!
I especially like how Smith really showed the caring side of these pro life campers and camp staff. They not only care about the unborn children, but they also care about the mothers of the unborn children.
Check out the Video HERE (anti-abortion camp starts at 2:10):