TURNER and Stivers Visit Alkermes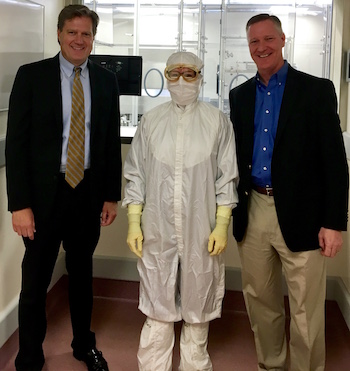 Congressmen Steve Stivers (OH-15) and I visited Alkermes recently to learn about its medical approach to combating the opioid epidemic.
Alkermes's leadership in addressing the opioid epidemic from within the pharmaceutical industry is vital to aiding those struggling with addiction and turning the tide in the battle against opiate abuse. Alkermes's products are being used as tools in treatment and recovery to save lives. I look forward to returning to Washington and continuing to push to cut red tape so more people can access the medical care they need to fight their addictions.
"Addressing the opiate epidemic takes a comprehensive response on all sides of the issue, and companies like Alkermes play an important role in this effort," said Congressman Stivers. "I appreciated the opportunity to join Congressman Turner today to learn more about how products made right here in Ohio are making a difference and helping people struggling with addiction. I remain committed to supporting policies in Congress to curb the drug abuse crisis plaguing our communities."