TX Judge Rules Beaumont ISD/DOJ Election ILLEGAL – Admin Got Paid to be a Fugitive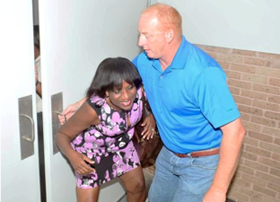 No surprise here, Beaumont ISD is once again in the news for, well, being corrupt. There are actually several new stories of corruption that I could write about, but I am just going to focus on the two biggest recent stories. First, BISD has had their planned November School Board Election declared illegal because, well, it violates Texas state law. Second, a top BISD Administrator had charges filed and a warrant out against her for blocking a public entrance, and she was given paid suspension while she was running from the law.
The drama over at Beaumont ISD is never ending. I am not a gambler, but if I was, I would be willing to bet good money that if you polled Texans from around the entire State, most of them will have heard of Beaumont, TX (and Jefferson County) and believe it to be one of the most corrupt places in all of Texas.
Beaumont ISD Election Ruled ILLEGAL – BISD Tried to Use Holder's DOJ to Push Illegal Election via Voting Rights Act
Okay, so let me make this long story short. Beaumont ISD is corrupt. The people of Beaumont wanted to really shake things up so they legally had a petition drive to change the board from 7 single member districts to 5 single member districts with 2 at large members who would be elected by the entire city and not from poorly drawn single member districts. The petition was successful, and it was placed on the ballot to be voted on by the entire city. The people of Beaumont spoke and voted to change the BISD to a 5-2 plan.
The Beaumont ISD districts were also changed during all the redistricting in 2012. State Law requires all members of the school board to be up for re-election after redistricting.
Well, election time come around for BISD. The election was supposed to be May 2013. BISD says a big "forget you" to the people of Texas and decided they will not implement the 5-2 plan and they also say they will not put all 7 members up for election.
BISD goes running to Eric Holder's Department of Justice and says that a 5-2 plan is racist and must be stopped. Holder used the Voting Rights Act section 5 and refused to give preclearance to the 5-2 plan. So BISD decided to move ahead with a 7 member district election. After a ping pong match between Federal and State Courts, and after the election got pushed back to November 2013, the Voting Rights Act giving DOJ automatic preclearance of election changes in Texas got struck down by the United States Supreme Court. With DOJ preclearance not needed anymore, BISD no longer had a reason to refuse to implement the 5-2 plan. They refused anyways and it ended up in court again.
Just yesterday, the 9th Court of Appeals in Beaumont, TX declared Beaumont ISD's upcoming school board election to be ILLEGAL.
Beaumont ISD Communications Director Jessie Haynes Given Paid Leave while she was Investigated and eventually Charged and had a Warrant out for her Arrest – Haynes pleads the race card
Okay, so here is the short story. Jessie Haynes did not want certain members of the media to be at a press conference, so she blocked the public doorway in the BISD Administration Building. Jerry Jordan of SETinvestigates.com has been exposing corruption in BISD and so Jessie Haynes took it upon herself to deny Jordan the ability to go into the public press conference. School Board Trustee Mike Neil (one of the good guys) showed up and tried to go into the press conference. She denied the school board member entry as well. Neil went to open the door anyways and that is when she took a football tackle stance and it looked like she was going to try to tackle the school board member. Above picture of the incident was taken by Jerry Jordan.
Charges were filed against Jessie Haynes and she had a warrant out for her arrest. While she was a fugitive, she was put on paid suspension and was getting a paycheck. Once she turned herself in and got out on bail, she was given her job back by Superintendent Timothy Chargois. Chargois seems to be continuing BISD down the corrupt path that former Superintendent Carrol "Butch" Thomas.
Oh, and what defense does Jessie Haynes claim? She claims everyone is racist against her. No surprise she pulled the race card. Oh, and just to be safe, she added in that she is a victim of violence against women. Interesting she should bring up violence against women because she was seen getting bailed out with Tyler Thomas Jr., who was accused of beating his girlfriend, and also when his father was a deputy for Hardin County his father was caught in a sting with a prostitute.