U.S. Veteran Seeks Legal Status for her Undocumented Husband and Father of Three
Sgt. Rafaella Ramirez, a decorated veteran, is facing the prospect of no one to raise her three American daughters as she prepares to serve her country. Her husband who has been working and paying taxes in America as an undocumented immigrant, followed the process to apply for legal status but was denied and given a ten-year bar from re-entering the United States. Certainly, there must be a way to handle this situation that will honor those who risk their lives to serve our country. "I trust and pray that my country will not force me to choose between giving up my career or separating from my husband," she said in consideration of the burdensome ultimatum our nation's dysfunctional immigration system is giving her.
Given that Sgt. Ramirez is on active military duty, it is of paramount importance that she can rely on her husband being in America to take care of their children. My husband becoming documented is essential for the stability of our three young daughters in my absence," she explained in an interview with TexasGOPVote.
Sgt. Ramirez has spent the majority of her adult life protecting and serving the United States in the Armed Forces. In the ten years since she joined the army in 2007, she has been stationed in Iraq, Kuwait, Germany, Amsterdam, Saudi Arabia, and all over the United States. 
She is currently the lead Sergeant in the Indiana Military Color Guard team, a member of Honor Fallen Veterans, and serving in the funeral honors team in Indiana in which she participates in the funerals of fallen soldiers and presents the flag to their next of kin.
Sgt. Ramirez has also won several decorations and awards for her service to our great nation, including a National Defense Service Medal, Iraq Campaign Medal with Bronze Star Device, Global War on Terrorism Service Medal, Armed Forces Reserve Medal, Army Service Ribbon, Indiana Outside Continental Service Ribbon, Indiana Overseas Service Ribbon, and an Indiana Emergency Service Ribbon.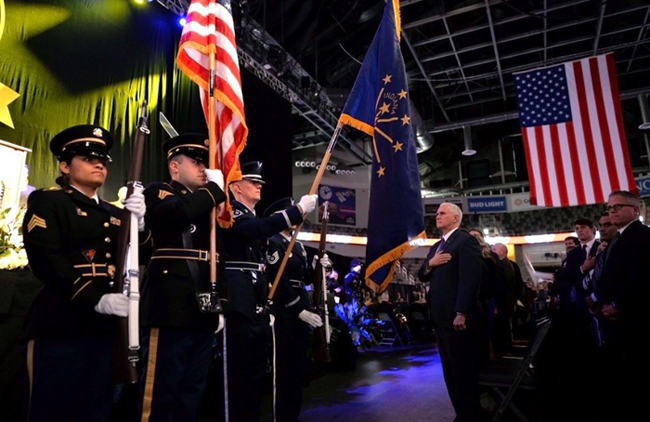 Sgt. Ramirez presenting the flag at the inauguration of Vice President Mike Pence
For the past twelve years, Sgt. Ramirez' life has been riddled with uncertainty. In 2005, she married her husband who did not have a legal immigration status, but was working and living inside the United States. Given Ramirez' law enforcement background and the fact that her husband was a hardworking, tax paying, and law abiding American in every sense aside from his immigration status, in 2006, they began petitioning for him to obtain legal documented status.
In 2009, soon after Sgt. Ramirez returned from her deployment in Operation Iraqi Freedom, her husband was finally scheduled for an interview with the American consulate in Mexico to be evaluated for a chance to obtain a green card that would grant him permanent legal status to live and work in the United States. According to Ramirez, the consular officer did not consider the fact that he had been paying all of his taxes and is married to and has three American children with an active duty American veteran. Instead, he was told that he was just taking advantage of his wife's status and "to go back to where he came from," ultimately receiving a ten-year bar against reentry to the United States.
Although Sgt. Ramirez and her husband tried to follow every law in their attempt to get him legal documented status, they failed because it is a difficult and technical process where nothing is guaranteed for an undocumented immigrant who has been living in the U.S. for longer than 180 days. Section 212(a)(9)(C)(i)(I)  of the Immigration and Nationality Act renders an individual inelgibible to obtain legal immigration status in the United States, if he or she has been unlawfully present in the United States for an aggregate period of more than one year, and enters or attempts to reenter the United States without being admitted. An undocumented immigrant who is inadmissible under section 212(a)(9)(C)(i)(I) of the Act is permanently inadmissible; however, after having been outside the United States for at least ten years, he or she may seek consent to reapply for admission pursuant to section 212(a)(9)(C)(ii) of the Act and 8 CFR 212.2.
Sgt. Ramirez and her husband are currently waiting for his application to be approved for Parole in Place, a program that provides the undocumented spouses of members of the Armed Forces legal status to work in the U.S. This application must be renewed every year so it is only a temporary solution.Temporary legal status granted by a program that was established through executive order is unsatisfactory in this case. Although it is unclear at this point how the president feels about Parole in Place specifically, his rhetoric about immigration has been confusing and misleading to say the least. A recent executive order he issued has even led some lawyers to believe Parole in Place is no longer in operation while other experts say it is.
If a sensible solution to issue IDs to and effectively tax the income of the estimated 15 million undocumented immigrants in America cannot be reached any time soon, at the minimum, a modification should be made to allow for the more practical issuance of green cards to the undocumented spouses of American soldiers. Shouldn't this active duty veteran be able to serve our great nation without the constant fear that there will be no one to care for her American children if her husband is forced to live in Mexico while she is deployed? The least we can do in exchange for the many sacrifices made by outstanding soldiers like Sgt. Ramirez who devote their lives to protecting our families is ensure that their families are protected as well.