Uvalde Strong #1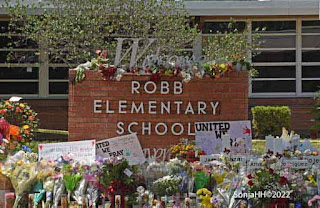 Uvalde, Texas, is the county seat of Uvalde County and is approximately 124 miles, a two hour drive from Comal County where we live.  The population in 2020 was 16,122 from the USA census.  Hispanics in Uvalde are the majority with 78.2% while Anglos are 14%.  Taken from DATA USA: Uvalde, Texas.
A terrible unimaginable tragedy occurred there on Tuesday, May 24, 2022.  On that day an 18 year old gunman walked into Robb Elementary school and slaughtered 19 children and two teachers with a rifle, all victims of a heinous, unspeakable crime.  The innocent children ranged in age from 8 years to 11 years and were in their classrooms when the gunman fired his rifle at them.  The worst in Texas history and second in our nation.  What makes matters worse is the false information that is being disseminated on social media.         
It was with heavy hearts that we traveled to Uvalde on May 27, wondering what we would find, other than heartache and sorrow.  Driving into Uvalde you could see that it was a typical Texas City with businesses like HEB, Pizza Hut, DQ, KFC and others.  We headed straight to Robb Elementary, 715 Old Carrizo Road, where we found a massive media presence surrounding the area.  It didn't take long to understand that the area was still a crime scene by the police yellow ribbon.  Even the media could not go past the yellow ribbon.  A Department of Public Safety officer was stationed in front of the school to gather flowers that people brought to place at the memorial crosses to pay their respect for the 19 children and two teachers.  There are 21 crosses in front of the school with the names of the victims on each cross.  There are so many mementos and flowers that the crosses are almost not visible.  
From the school we headed to Sacred Heart Catholic Church which was founded in 1908.  Several funerals have already been planned with many of the masses to be held at Sacred Heart. The faith of the people is sustaining them through this very difficult time.  The priests and deacons from the parish and surrounding churches are consoling and counseling the families and children.  The first funeral mass will be held on Tuesday, May 31, at 2pm for Amerie Jo Garza.  Teacher Irma Garcia's funeral mass will be on Wednesday, June 1 at 10am. An anonymous donor has contributed $175,000 to pay for all the victims' funeral expenses.  
Archbishop Gustavo Garcia Siller celebrated mass on May 24 for the victims and families.  He released a statement on May 24 for the Archdiocese of San Antonio, which includes Sacred Heart Catholic Church.
May 24 at 6:54 PM  
Statement of Archbishop Gustavo Garcia-Siller, MSpS, regarding Uvalde elementary school shooting:
There are no words to adequately convey the deep sadness and sorrow and overwhelming shock at the incomprehensible loss of life of 19 children and two adults at Robb Elementary School in Uvalde Tuesday afternoon at the hands of a young gunman. When will these insane acts of violence end; it is too great a burden to bear. The word tragedy doesn't begin to describe what occurred. These massacres cannot be considered "the new normal." The Catholic Church consistently calls for the protection of all life; and these mass shootings are a most pressing life issue on which all in society must act — elected leaders and citizens alike. We pray that God comfort and offer compassion to the families of these little ones whose pain is unbearable. They must know that we are with them and for them. May the Lord have mercy on us all. From the Book of Wisdom, "The souls of the just are in the hands of God. ... They are in peace."
We found that the town Plaza was being used as a memorial for friends and family to gather.  As I approached the town Plaza a strong scent of flowers permeated the air.  The Plaza was full of reporters and mourners.  I saw a child crying and being held by his mother.  Others were standing in front of the cross memorials that were piled with flowers, candles, teddy bears, stuffed animals, balloons, cards, rosaries and other gifts left for the loved one.  This sight was heartbreaking.  Several reporters were busy seeking those that might want to speak to them.  I chose not to disturb anyone who was obviously grieving or otherwise in this area.  This area seemed off limits for an interview.
The names of the victims are:
Makenna Lee Elrod, 10
Layla Salazar, 11
Maranda Mathis, 11
Nevaeh Bravo, 10
Jose Manuel Flores Jr., 10
Xavier Lopez, 10
Tess Marie Mata, 10
Rojelio Torres, 10
Eliahna "Ellie" Amyah Garcia, 9
Eliahna A. Torres, 10
Annabell Guadalupe Rodriguez, 10
Jackie Cazares, 9
Uziyah Garcia
Jayce Carmelo Luevanos, 10
Maite Yuleana Rodriguez, 10
Jailah Nicole Silguero, 10
Amerie Jo Garza, 10
Alexandria "Lexi" Aniyah Rubio, 10
Alithia Ramirez, 10
Irma Garcia, 48
Eva Mireles, 44
Understanding that the people are in shock and still not thinking straight, the World Central Kitchen was in town distributing free meals to anyone who wanted a plate of Mexican food.  Soft drinks, bottled water and other refreshments were being served to those needing to quench their thirst.
There has been a enormous outpouring of love and support for the victims, their families and the citizens of Uvalde.  Food and social services are being provided for anyone who needs them.  It was announced during one of the Press Conferences that several government agencies were helping to ease the burden from the victims' families.  The Mexican Consulate from Piedras Negras is assisting family members in Mexico with VISA's so they can attend funeral services.   
It is obvious that the pain from this crime will linger on for years if not forever.  Hearts and minds are going to need time to heal.  Texas Governor Gregg Abbott announced that any Uvalde resident can ask for free mental health services from the state and private providers by calling 888-690-0799. 
There are heroes to this tragedy.  I spoke to the mother of a boy who was on the school playground.  She told me that when the shooting started the school coach, Abraham Gonzales, had his class outside.  When he heard the first shots after the gunman wrecked his vehicle, he told the children to run, to leave the playground.  All these children were saved.
The people of Uvalde want and need our prayers. 
Eternal rest grant unto them O Lord.
And let perpetual light shine upon them.
In your hands, O Lord,
we humbly entrust our brothers and sisters.
In this life you embraced them with your tender love;
deliver them now from every evil
and bid them eternal rest.
The old order has passed away:
welcome them into paradise,
where there will be no sorrow, no weeping or pain,
but fullness of peace and joy
with your Son and the Holy Spirit
forever and ever.
Amen.
THE RED REPORT©
RED SONJA
NEVER GIVE UP!