VIDEO: Cornyn Presents WWII Medals to Son of Deceased Texas Veteran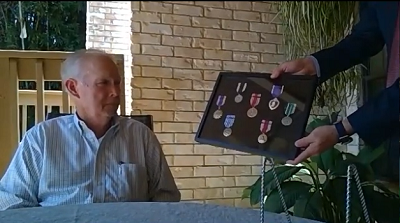 Yesterday I presented seven military medals to Larry Wilkinson honoring the service of his late father, SGT Sam Wilkinson.  Mr. Wilkinson of Friendswood, Texas had contacted my office earlier this year requesting assistance in obtaining four replacement medals from the Department of Defense for his late father.  My team was able to secure the four medals he requested as well as an additional three medals that SGT Wilkinson had earned through his military service but not yet received.

I presented Mr. Wilkinson with the following medals: Prisoner of War Medal*, Purple Heart*, Air Medal*, American Theater Medal, European-African-Middle Eastern Medal with 1 bronze campaign star, Good Conduct Medal, and WWII Victory Medal (* denotes SGT Wilkinson never received these during his lifetime).  These medals were earned honorably for his service with the 787th Bomb Squadron, 466th Bomb Group in the European Theater as a gunner on a B-24 bomber.  On April 8, 1944, SGT Wilkinson's plane was shot down, and he was held as a POW until the end of World War II.  He then returned to his hometown of League City, Texas to raise a family.
This medal presentation came on the day I won the Best Constituent Services Award in the Senate from the nonpartisan Congressional Management Foundation for my outstanding practices and achievements acting as an ombudsman with the federal government and responding to constituent requests for assistance.

Texans can visit cornyn.senate.gov/fortexans or call my Dallas office to get help with a federal agency or learn more about the services my team can provide.