Video Proves Innocence but Texas Man still Charged; Arresting Officer Terminated – Jefferson County Corruption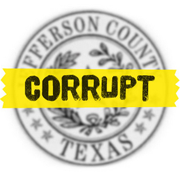 I recently wrote an article exposing massive corruption in Beaumont, Jefferson County, Texas. Specifically, a hidden Video was released that shows an illegal arrest and perjury by Democrat Texas Judge Layne Walker and Jefferson County Sheriff Deputies. Jefferson County is no stranger to corruption, from Beaumont Independent School District scandals leading to state takeovers to Beaumont mayors going to jail. Things are bad in this Democrat-controlled East Texas county.
Prosecutor Joe Alford Refuses to Drop BLATANTLY False Charges and Refuses to Release Evidence to Defense Attorney John Morgan
Shockingly, the corruption only seems to get worse as this most recent corruption plays out. Now the Special Prosecutor Joe Alford is joining in on the scandal and refusing to drop charges against an innocent man, Stephen Hartman, even after video clears the man, and the deputies who arrested him were disciplined and recommended for termination for falsifying their report against him and tampering with evidence. Alford is even illegally refusing to release the evidence he has to Hartman's defense, which has prompted Hartman's defense to file a motion to dismiss (see letter from Joe Alford and motion to dismiss below).
John Morgan, a Beaumont attorney, is helping to lead the fight against these corrupt politicians. Morgan is sticking up for these victims of the corrupt Jefferson County system. Unfortunately, corrupt Democrat Judge Layne Walker retaliated against Morgan by taking away his kids for NO REASON except that Morgan was on the wrong side of the political line.
Now this Judge is trying to punish a process server who was trying to do his job and serve the Judge lawsuit papers. Stephen Hartman tried to serve this Judge at his house but the Judge pulled a gun. The Judge then refused the papers at his office. Hartman then went to the only place the judge could be found in public, the courtroom, and waited behind the bench for a good time to ask the bailiff to come over so he could tell the Bailiff about needing to serve the Judge. The Deputies, on orders of the Judge, had Hartman arrested and falsely claimed he crossed the bench and was shouting. A secret video recording now shows that Hartman did NOTHING wrong and was falsely arrested.
Jefferson County Deputies Disciplined for falsifying report and stealing/tampering with evidence
After Hartman was arrested, Jefferson County Sergeant Steven Broussard confiscated Hartman's video recorder and TOOK IT HOME and tried to delete it. Broussard and another deputy, Tony Barker, also lied about Hartman in their reports. After Morgan forced the recorder to be produced by the officer, the truth was seen on video and Jefferson County Sheriff Mitch Woods recommended Sergeant Broussard be fired and Deputy Barker be suspended for 5 days. Broussard went ahead and announced retirement before he was fired.
Prosecutor Alford refuses to release evidence and he absurdly says statements against Hartman are "unimpeachable" even though 2 of the officers lied and video proves Hartman is innocent!
Morgan demanded that Alford turn over all evidence they have in the case against Hartman, including all video and audio from the courtroom. Alford responded and refused to hand over the evidence.
What is even more absurd is that Alford suggested the witnesses and evidence are "unimpeachable" even though the officers involved have been disciplined and  thevideo proves Hartman did nothing wrong!
Click here to read the letter from Alford.
John Morgan filed a motion to dismiss charges against Stephen Hartman because of the violations by Alford, the arresting officers, and the lack of evidence.
Click here to read Morgan's motion to dismiss.
Also Check out a website created to expose this Corrupt Democrat Judge www.DownWithWalker.com