What Would You #AskEric? AG Holder to Go Before House Judiciary Committee Today at 1pm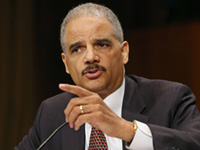 Things are only getting worse for the Administration, but that's what they should expect when intentionally misleading the American people. Scandal after scandal is coming to light, and today Attorney General Eric Holder is testifying before the House Judiciary Committee, which I sit on. You can watch the hearing live at 1pm ET/12pm CT here. I am really looking forward to holding him accountable for his actions at the Department of Justice, but I want to know what you would #AskEric if you could sit in on the hearing. I posted this question on Facebook and Twitter yesterday, and it's not too late to tell me what you would #AskEric. Post your questions in the comments section and I may ask them during today's hearing.
Last week, the House Oversight Committee, which I also sit on, held a hearing on the continuing investigation of what happened in Benghazi on September 11th, 2012. We brought in former US State Department employees who wanted to tell their stories about what they experienced on the ground in Libya the day of the attack.
I began my round of questioning round by expressing my deepest condolences to the families of the four men killed during the attack. I then touched on the fact that one of the whistleblowers, Mr. Greg Hicks, the former Deputy Chief of Mission/Chargé d'Affairs in Libya, was not permitted to read the State Department's Accountability Review Board (ARB) report, even though he was on the ground in Libya, directly involved in the events following the attack, and had the proper security clearance.
Following that exchange, I questioned one of the witnesses about the fact that the State Department was relying on a militia with ties to Islamic extremists to protect American diplomats in Benghazi.
Security expert Mr. Eric Nordstrom responded that this is a widespread problem in protecting Americans abroad, and has led to security problems and even attacks in places like Afghanistan, Yemen, and Saudi Arabia.
"It was the best bad plan," Mr. Nordstrom said.
"I certainly hope that these hearings result in us not having to rely on 'the best bad plan' when securing our personnel abroad," I concluded.
Many members of the committee, myself included, expressed the need for more hearings looking into the facts that were brought to light, in an effort to ensure that nothing like this happens again. Video from the hearing is below, as well as interviews I did over the weekend on Fox News and MSNBC.