The FBI Search of John Wiley Price & Friends— Is this more evidence of the Super Massive Blue Hole* of Democrat Rule?
Today the FBI searched the office, home and vehicles of Dallas County Commissioner John Wiley Price. The homes of both Dapheny Fain, Price's longtime Executive Assistant, and Kathy Nealy, Price's political consultant and supporter, were also searched. Nealy also was the chief political consultant for the southern sector of the campaign of Dallas Mayor Mike Rawlings, who incidentally was sworn into office today. (Rawlings' office was quick to issue a statement that his office was not involved.)
John Wiley Price's wrapped van outside of his house during the FBI's search of his house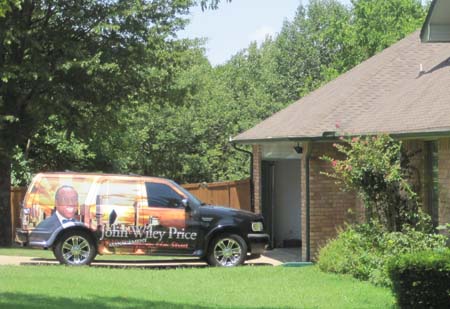 A John Wiley Price wrapped van parked outside of Dapheny Fain's home during the time her home was being searched by the FBI
Dapheny Fain's home during search
Nealy and Fain have declined comment, but Price answered a few questions, in essence saying that he doesn't know what this is about, but stated that this is not the first time he has been up against "this kind of adversity." Price's attorney Billy Ravkind had a less subtle take: "It's all a bunch of bull[expletive). Total absolute bull—."
What is known of this investigation is that the FBI collected Price's personal financial statements Monday morning from the County Clerk, and with that, according to the search warrants Ravkind released (Ravkind did not release copies of the search warrants for Price's home or office, but did release the search warrants issued for Price's person and two vehicles), the FBI was looking for information related to all electronic data from 2001 to the present related to alleged violations of federal charges ranging from bribery and tax evasion to money laundering and structuring of transactions to evade reporting requirements.
One of Price's own websites describes him as "…a seeker of truth, a warrior for justice, and a visionary leader…". 
Price was investigated along with some Dallas constables over the payment of officers to work security at Kwanzaa Fest, an event Price created and runs. The report by former FBI agents Danny Defenbaugh is here, and those allegations have never been squarely resolved. Other allegations against Price arose out of the Dallas inland port project, and a list of other issues too lengthy to review here.
Price's statement that this is not the first time he has been up against "this kind of adversity," and his attorney's more pointed comment, have the ring of victimhood and imply that the searches are unjustified.
Former FBI "human source" (read undercover agent) Brandon Darby answered generic questions about the FBI's procedures in cases involving public figures. Darby has no involvement in this case involving John Wiley Price, but did state that to his knowledge when public figures are the target of investigations, the FBI is especially careful, and would only execute a search warrant if it had developed a significant and substantial amount of evidence. Of course, all three recipients of today's search warrants are entitled to the presumption of innocence, another blessing of living in the most just nation on earth. Some information was obviously presented to justify the issuance of search warrants, but no formal charges have been filed, much less proven.
Reaction in Dallas was mixed. Republican Commissioner Maurine Dickey's comment to this blog was that she appreciates the hard work and diligence of the FBI. Former Commissioner Ken Mayfield responded to today's events saying "I'm just sitting here wondering why it took them so long. I have talked to the FBI many times, and am glad to see they are following through." While some Republicans viewed today's events as "sad," if serious wrongdoing is ultimately alleged and the proof uncovered, this actually makes Monday a good day in Dallas. If corruption and criminal wrongdoing have occurred, it is best for the county and both political parties to have it exposed.
Today's events raise one other issue at least for Dallas and really for all of America---can we count on our DOJ to prosecute if there is sufficient evidence of violation(s) of federal law? Many recall with deep distress the decision by Attorney General Eric Holder to decline to prosecute members of the New Black Panthers accused of intimidating Anglo voters, even when video evidence was very strong. A subsequent statement by a DOJ attorney who resigned indicated that the DOJ policy was overtly racist---a very serious charge.
Uncovering alleged wrongdoing among public officials, and demanding that if the evidence is there, prosecution goes forward, are hallmarks of a genuinely advanced society, committed to the higher ideal of a government of laws, not of men. We know little of what is going on in this case, and no one should rush to judgment, but no one should, on the other hand, unthinkingly buy into the "this is all bull…. " defense.
*The "super massive blue hole" refers to the destruction and chaos resulting from long term Democrat rule in major cities and counties in America, and is an analogy to the super massive black hole in space that literally sucks in and destroys everything around it. A recent short video (an amateur yet "avant garde" video that went viral a few weeks ago ) pointed out that the cities with the highest poverty rates in America, along with worst ranking on many other indicators, have a common denominator: long term Democrat rule. You can read about it here and on many other websites. It is the intention of this author to chronicle the impact of Democrat policies on Americans of all backgrounds.
---
Related Content:
Home and Office of Dallas County Commissioner John Wiley Price Raided by FBI
Transparency, Free Speech and George Soros at the Dallas County Commissioners' Court
John Wiley Price, Clay Jenkins - Dallas County in Crisis