Featured Voice of the Texas GOP: Barbara Nash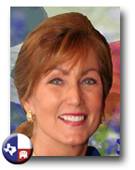 Barbara Nash is the newly elected State Representative for House District 93, ousting Democratic incumbent Paula Pierson.
Barbara Nash grew up in Fort Worth and has resided in Arlington for nearly forty years. Presently, she is self-employed in Real Estate investing. Barbara became a Certified Paralegal in 2001. Formerly, Ms. Nash was elected to the Arlington City Council and Arlington ISD Board of Trustees, and she served as President, Vice President, and as a member for 25 years in the Arlington PTA. Barbara was also appointed by the governor to the Trinity River Authority where she served as a member of the Utility Services Committee from 2008-2009. She served as Secretary of the Arlington Sports Facilities Development Authority and has twice served on the Tarrant County Criminal Grand Jury, in 2006 and 2008. A member of the Board of Directors for Arlington Charities, the Tarrant County Youth Collaboration Board of Trustees and as the Scholarship Chair for the Ladies' Auxiliary of the Boys & Girls Club of Arlington, Ms. Nash has dedicated much of her time to a variety of causes. As a Court Appointed Special Advocate for Child Advocates of Tarrant County, she showed her dedication to the protection of children in Tarrant County.
She currently serves on the Arlington Education Foundation Board of Directors, the Cancer Research Foundation of North Texas as the Volunteer Coordinator, and the Salvation Army Advisory Council. Ms. Nash also serves on Congressman Joe Barton's Advisory Committee on Education and Family.
Ms. Nash received the Gilbert Garcia Amiga Award in October of 1999 by the United Hispanic Council of Tarrant County, in appreciation for her significant contributions to the Hispanic community. She also received the Texas Life Member of the PTA Award in 1977. She has seotary Club and received the Rotary Club of Arlington's Paul Harris Fellow Award.
Barbara is a lifetime resident of Tarrant County. She graduated from Polytechnic High School and attended Texas Wesleyan University and also Arlington Career Institute. She is an active member of the First Methodist Church and the mother and grandmother of two children and three grandchildren.
Other Clubs, Organizations, and Past Involvement of Ms. Barbara Nash:
North Central Texas Council of Government, Arlington Chamber/AISD Mentor Program, Arlington Human Service Planners, Partners for Education Excellence Committee, the AWARE Foundation, Arlington Business and Professional Women, Arlington Economics Development Foundation Board of Directors, The Women's Shelters Support Group of Arlington, Arlington Woman's Club, and the Encore Club.
Other Political Involvement:
League of Women Voters of Arlington, Republican National Congressional Committee, Republican Women's Leadership Conference, Women's Leaders Summit (Washington, D.C.), national Council of Women Advisors to Congress, Republican National Committee, and the Presidential Victory Team, Republican Presidential Roundtable.
Source: barbnash.com
"Voting is one of our most fundamental Constitutional rights and I believe it is something that we must hold dear and protect. As a former precinct chair and as an election judge, I firmly support a requirement to show a state issued ID to confirm your eligibility to vote." - Barbara Nash