Featured Voice of the Texas GOP: Dianne Edmondson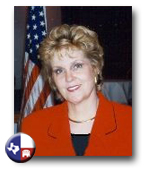 Dianne Edmondson is the current Chairman of Denton County Republican Party and is seeking reelection.
Republican Leadership:
Exec. Director of the Republican National Coalition for Life, founded by Phyllis Schlafly, which for the last two decades has ensured that the Republican Party remains the Party of Life. The coalition endorses and sometimes help fund strong pro-life candidates for U.S. Senate and House.
Dynamic leadership since 2002 as DRP chairman
National GOP Convention George W. Bush Delegate - 2000
DCRP Outstanding Volunteer 1999 President - Denton County Council of GOP Organizations
Texas Federation of Republican Women - 1990 Tribute to Women Honoree
President - Denton Republican Women's Club (2 terms)
Dianne and Bob visit with Cong. J.C. Watts at Lincoln Day function
Dianne received the Tribute to Women award from Sen. Phil Gramm and his wife, Wendy. Dianne was among the honorees at the 1990 Texas Federation of Republican Women event at the State GOP Convention.
Officer/Committee Chair - Denton Republican Women's Club (1988 - present)
Member of several other County GOP clubs
Chair of Sen. Dist. 9 Rules Committee; member of Resolutions Committee (3 times), and Credentials Committee
Attended every GOP Precinct., Senatorial District and State Convention since 1988
Managed or volunteered in dozens of Republican candidates' campaigns including Presidential, Gubernatorial, Congressional, many State-wide offices, most County-wide offices, Commissioners, Justice Courts, etc. for nearly 20 years in Denton County (phone banks, letters to newspapers, precinct walking, fund-raising, campaign management, etc.)
Selected for a 1995 national Republican Women's Leadership Seminar in Washington, D.C.
Community Leadership:
Denton County Citizens Budget Advisory Committee Vice Chair
Denton County Housing Finance Corporation Board of Directors
Denton County Commissioner 2001 Re-Districting Committee
Denton Chamber of Commerce Board of Directors
Founding Chair - Chamber's State/Federal Relations Committee
Denton County Day in Austin Committee
Personal Background:
Dianne and Bob have been married for 41 years
Native Texan, born in San Antonio
Denton County resident for 23 years
Two grown children, six grandchildren
Denton Bible Church member and former newsletter Editor
Founded successful executive search firm in 1983. Sold business in 2006.
North Central College Foundation Board of Directors (Corinth campus)
Leadership Denton Graduate (1988)
Leadership Denton Alumni of the Year (1995)
Support Our Shields 100 Club (Denton police support organization) Vice President
Hon. Ronny Crownover Bone Marrow Drive Task Force
City of Denton Blue Ribbon Capital Improvements Committee
Vision for Denton 2000 sub-committee Chair
Contributor and supporter of numerous other community groups and activities.
"Unless we can make significant inroads into groups which have not traditionally voted Republican, the GOP cannot survive as the majority party in Denton County, in Texas or in the U.S.A. We must build upon our commonality of interests with these groups and welcome them into the Republican constituency." - Dianne Edmondson