Final Sunday Health Care Bill Vote: 219 YES, 212 NO, Health Care Bill Has Passed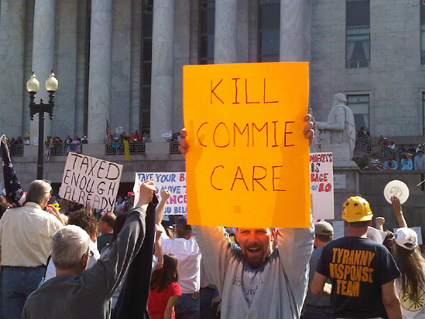 Rep. Stupak made a deal with the White House earlier, and will be voting for the health care reform bill. Before the final vote started, John Boehner once again requested that every representative cast their vote one by one, but the request was denied. The voting for the health care bill that was passed by the Senate on Christmas Eve, HR 3590, begins. The House still has other votes ahead, including voting on its reconciliation bill. ProPublica did a side-by-side comparison of the Senate bill and House revisions and posted it late last week so that you can view the changes.
10:45(EST): HR 3590 has gotten the 216 votes needed and has passed.
10:48 (EST): The final vote count for the health care bill, HR 3590: 219 YES, 212 NO, PASSED.
11:19 (EST): Procedural vote on Reconciliation bill: 199 YES, 232 NO, Motion is not adopted.
11:35 (EST): Vote on Reconciliation Bill, HR 4872: 220 YES, 211 NO, PASSED.
Despite the thousands and thousands of freedom-loving Americans that came to the nation's capital this weekend, all but 34 Democrats voted against the American people and have passed the health care bill.