The 116th Congressional Session Begins
by Ted Cruz
on January 7, 2019 at 10:59 AM
---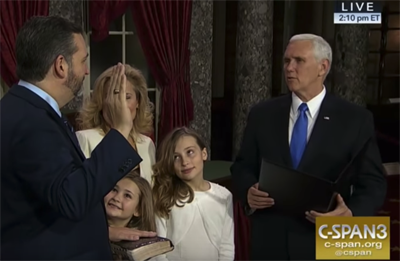 Thursday marked the beginning of a new Congress, and it is my great honor to serve 28 million Texans. I will continue to work closely with my colleagues on both sides of the aisle on a number of important committees, including the Committee on Commerce, Science, and Transportation, the Committee on the Judiciary, the Committee on Rules and Administration, and the Joint Economic Committee. Additionally, I was named to the Committee on Foreign Relations. I will use my position there to enhance our national security while remaining deeply involved with Texas' military community, which is a key pillar of our national strength. I remain committed to fighting for our state, promoting conservative values, and ensuring Texans' concerns are voiced and addressed in our legislative efforts.
For far too long, members of Congress have abused their power and ignored the will of the American people. Congress must hold itself accountable. On Thursday, Rep. Francis Rooney and I introduced an amendment to the U.S. Constitution to impose term limits on members of Congress, limiting U.S. senators to two six-year terms and members of the U.S. House of Representatives to three two-year terms. The American people overwhelmingly support term limits, and I hope my colleagues will submit this amendment to the states for ratification.
Congress has a clear mandate from the American people: secure the border and build the wall. I have long called for building a wall as a necessary step in defending our border, and this week, I reintroduced the EL CHAPO Act. Right now, the U.S. Government is seeking the criminal forfeiture of more than $14 billion in drug proceeds and illicit profits from El Chapo. His $14 billion would go a long way in offsetting the cost of securing our border, hindering the illegal flow of drugs, weapons, and individuals, and would help make significant progress toward delivering on the promises made to the American people.