136th Airlift Wing Names First C-130J Super Hercules "The Kay Granger"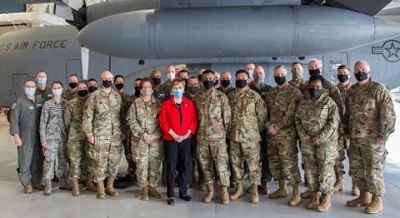 As the Lead Republican on the House Appropriations Committee, I was the 136th Airlift Wing's Guest of Honor for the arrival of its first of eight C-130J Super Hercules aircraft at the Naval Air Station Joint Reserve Base (NAS JRB) Fort Worth. This first aircraft was named "The Kay Granger" in my honor.
I am thrilled to see years of work come to fruition with today's arrival of the first C-130J Super Hercules to the 136th Airlift Wing. I am honored to have the first of these cutting-edge aircraft named after me, commemorating my years of strong support for their development and assignment to NAS JRB Fort Worth. I will always fight to ensure the men and women of the Texas Military Department and the Texas Air National Guard receive the training and equipment they need to defend the freedoms we as Americans enjoy every day.
In November 2020, the Department of the Air Force announced that the 136th Airlift Wing of the Texas Air National Guard would be receiving eight C-130Js to replace its aging fleet of C-130H aircraft. This ceremony welcomes the first of these aircraft to its new home at NAS JRB Fort Worth.
I have a personal relationship with this base, going back to my time leading the fight to preserve it as Mayor of Fort Worth. Later, as Chairwoman of the House Defense Appropriations Subcommittee, I provided funding to recapitalize the Air National Guard's aging C-130H fleet. I am happy to see this work come to fruition as the 136th Airlift Wing receives these advanced new aircraft, which will enable them to execute their essential work in Texas, across the United States, and around the world.
Earlier this year, as a result of my ceaseless efforts, NAS JRB Fort Worth was the beneficiary of two other major basing decisions. The 136th Airlift Wing was selected to receive the Air National Guard's newest Aeromedical Evacuation Squadron, and the 301st Fighter Wing was chosen to receive 26 new F-35 Joint Strike Fighters, built just across the base's runway.
The event was also attended by Major General Tracy Norris, The Adjutant General of Texas and Commander of the Texas National Guard; Maj. Gen. Thomas Suelzer, Deputy Adjutant General – Air; Colonel Keith Williams, Commander of the 136th Airlift Wing, Texas Air National Guard; members of the 136th Airlift Wing; and other elected officials from the region.