Alma Perez Jackson is the Only Conservative Choice for Texas SD-26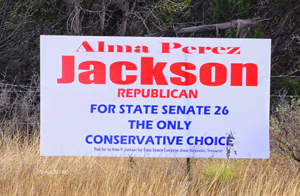 Alma Perez Jackson is working hard to win the Senate District 26 seat that Leticia Van de Putte vacated to run for mayor of San Antonio. Jackson is encouraged by the support she is receiving from Republicans and the endorsements she has received from Texas Right to Life, Texas Values and the San Antonio Family Association.
Alma is a strong proponent for the unborn, and is pro-family and pro-business. She is fiscally conservative and because she ran a small business is supportive of the entrepreneur. She is married to a retired police officer who is also a Vietnam veteran. She understands the issues police and veterans face. She is a strong supporter of gun rights and has an NRA rating of 92%.
She strongly believes in school choice. She is confident that parents are the ones who know best where their children should attend school. All children deserve an education to better their opportunities in life. Of the estimated 786,805 people living in Senate District 26, it is calculated that the district has a working population age 16 – 64 of 343,028 and an approximate student population from preschool, to college, graduate, and professional status of 381,556. These numbers indicate that these are hardworking folks wanting to educate their children and that they strive for the American Dream. How is it that both Jose Menendez and Trey Martinez Fischer, Jackson's two strongest Liberal opponents, want this seat when they both protect the environment over jobs? Interesting that Menendez just now is voicing his views on education after serving his constituents in House District 124 for 14 years.
I did an unofficial count of the Catholic churches in the district. I was amazed to find out that there are at least 16 if not more Catholic churches listed in this area. If so many Catholics live in this district, how is it possible that such a pro-abortion agenda thrives there? If you are a parishioner of any of these Catholic churches, please call your friends and neighbors and let them know that Menendez is a Catholic in name only. In one of his video ads he proudly announces that he is a graduate of Central Catholic HS and Southern Methodist University. Obviously he does not tell the real story that he votes to abort the unborn, which goes totally against the teachings of the Catholic faith.
TEXAS SENATE DISTRICT 26 CATHOLIC CHURCHES
St. John Berchman's
St. Cecilia
Our Lady of Guadalupe
St. Paul's
St. Matthews
St. Johns
Holy Spirit
St. Luke's
St. Stephens
St. Michaels
Sacred Heart
Immaculate Conception
Holy Family
Blessed Sacrament
St. Joseph
St. Leo's
The voting records of Menendez and Fischer show that each of them voted to abort an unborn after 20 weeks and they both have 100% rating in the environment. They both voted against Voter ID and both of them are rated low in business and fiscal responsibility. Fischer has a pathetically low NRA rating of 17% indicating he has no concept of the 2nd Amendment and that he has no idea of how many Texans enjoy hunting and gun ownership.
As you can see, Alma Perez Jackson is by far the most qualified candidate in this race to represent SD 26. Alma needs your help. The Bexar County GOP headquarters will be open on Saturday, December 26 from 9:30 am to 4:00 pm for phone banking.
Bexar Co Republican Headquarters
909 NE Loop 410, 5th Floor
San Antonio, TX 78209
You can also make phone calls from home, please Sharon Hall at 210 289 7396 and she will give you detailed instructions.
You can also contribute to Alma Perez Jackson by following this link.
https://raisethemoney.com/ajackson/w
Texas Right to Life endorses Alma Perez Jackson
http://www.texasrighttolife.com/a/1399/Texas-Right-to-Life-Political-Act...
TEXAS VALUES ENDORSES Alma Perez Jackson
http://txvaluesaction.org/texas-values-action-endorses-alma-perez-jackso...
WHERE AND WHEN TO VOTE SD26
http://home.bexar.org/elections/