AR-15 Gun Giveaway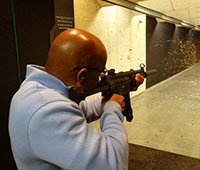 It's hard for some people to believe, but I'm a country boy. I grew up on a 25,000 acre cattle ranch outside a small Central Texas town. We fished and hunted practically every day. Rods and reels and guns were as normal as breathing.
As I grew older I learned the rich history of gun ownership in freeing America from the tyranny of a king, and I would later learn that guns were necessary again to free black people from the tyranny of bondage.
And guns kept black people free from bondage, as after the Emancipation Proclamation armed blacks fought back racist Democrat intimidation by the Ku Klux Klan.
In the sesquicentennial year of the Republicans freeing blacks from slavery, I am proud to offer this AR-15 rifle in commemoration of our freedom. Freedom we have, because we have the 2nd Amendment, and our God-given right to protect ourselves.
Entries must be received no later than midnight on April 30, 2013.
After submitting your entry, you will begin receiving complimentary updates from The Black Sphere!
Click here to enter to win and learn more about the giveaway.