On Aug 9, Tell President Obama and the Democrats to Keep Their Hands Off Texas!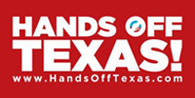 The following announcement came in from the Republican Party of Texas:
On Monday, August 9, President Obama will visit two Texas cities, Austin and Dallas. Is he here to announce that he's calling off the EPA's attack on our state? No. Is he here to announce that he's dropping support for his job-killing cap and tax legislation? No. Is he here to listen to Texans who want lower taxes, improved border security, and more freedom rather than more and more government control? No, no and no. The President's agenda remains the same: Pro taxes, and anti-Texas.
The President is coming to Texas for one reason: To raise money for Democrats, money that will be used to support other Democrats in Texas who agree with him. Democrats who share his radical vision for "fundamentally transforming America" into a nation of government control. Democrats like liberal trial lawyer Bill White, who supports cap and trade. Democrats like Rep. Lloyd Doggett and Ciro Rodriguez, who voted for Obamacare.
Democrats like Rep. Chet Edwards, who claim to be Blue Dogs but vote with the Pelosi wing of their party 97% of the time. Democrats like Jim Dunnam, Kirk Watson, Mark Strama and Patrick Rose, who represent their party's liberal wing rather than representing the people of Texas. Democrats like Matt Angle, who attacks Texas from his lair in Washington using leftwing front groups and trial lawyer money.
Monday, August 9 is our chance to tell the President that Texas doesn't need his liberal policies.
The rally will take place on the south steps of the capitol in Austin, Monday August 9. Details are still being worked out, but put the date on your calendar and get ready to hear from some of Texas' top leaders. Watch the Republican Party of Texas websites, keep an eye on our facebook page, and watch for our emails as the rally takes shape.
Get ready to tell the Democrats to keep their liberal policies from hurting our state. Get ready to tell President Obama and his Democrat cronies to keep their hands off Texas!