Bill to Improve Efficiency and Boost Safety at U.S. Ports of Entry Passes Senate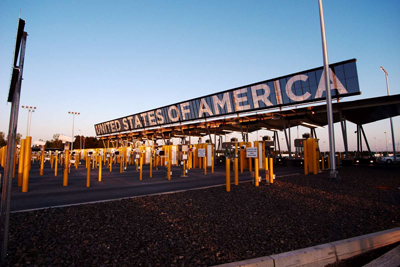 The United States Ports of Entry Threat and Operational Review Act passed the Senate.  This bill would initiate an in-depth analysis of the strengths, opportunities, and vulnerabilities of land, sea, and air ports of entry so that we can promote more efficient trade and travel across our borders while targeting vulnerabilities to decrease illegal activity.
Texas boasts some of the most active ports of entry in the United States, and reviewing the vulnerabilities and inefficiencies at these ports will help us to better facilitate legitimate trade and travel. I'm grateful to Sen. Peters and all my colleagues in the Senate for supporting this bill critical for international trade, travel, and security.
"The day-to-day operations of businesses in Michigan and throughout the country depend on the secure flow of goods through our ports," said Senator Peters. "I am pleased the Senate has passed this bipartisan bill to provide our ports with the resources needed to effectively handle increased levels of trade and travel, and ensure small business owners and entrepreneurs across Michigan can continue to sell their products in the global marketplace."
The United States Ports of Entry Threat and Operational Review Act requires the Secretary of Homeland Security to submit a threat and operational analysis of ports of entry,  including:
current and potential threats posed by individuals and organized groups seeking to exploit security vulnerabilities at ports of entry or to unlawfully enter the United States through such ports of entry;
methods and pathways used to exploit security vulnerabilities at ports of entry;
improvements needed at ports of entry to prevent the unlawful movement of people, illicit drugs, and other contraband across our borders;
improvements needed to enhance travel and trade facilitation and reduce wait times at ports of entry;
processes conducted at ports of entry that do not require law enforcement training that could be fulfilled with non-law enforcement staff; and
improvements needed during secondary inspections to meet food safety standards.
This analysis should consider personnel needs, technology needs, and infrastructure needs at each port of entry, including their associated costs.  It should suggest strategies to mitigate threats, reduce wait times, prevent unlawful activity, focus intelligence collection, identify fraudulent documents, prevent corruption, and adequately staff each port of entry.