Chairman Smith to Supreme Court: EPA Overstepped Authority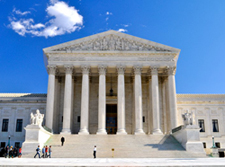 I joined Senate Republican Leader Mitch McConnell (R-Ky.) and several lawmakers in submitting an amicus brief to the U.S. Supreme Court yesterday challenging EPA's power to interpret the Clean Air Act (CAA) in a way that bypasses the constitutional role of Congress. The House Science Committee has jurisdiction over science and technology issues related to environmental policy and underlying EPA regulations, including those governing greenhouse gasses.
The EPA continually attempts to sidestep Congress and expand its role in advancing a partisan political agenda. Costly and burdensome regulations put American jobs at risk. Disregarding the authority of Congress to set environmental policy undermines the democratic process. The Obama administration continues to overstep its constitutional authority as it attempts to enact job-killing regulations.
The central question under consideration is whether EPA's setting emissions standards for cars and trucks under the Mobile Source program of the CAA automatically triggers permitting requirements for stationary facilities under other CAA programs.
The brief explains that to allow the EPA to re-write the law to suit its regulatory agenda "would, in the words of Judge Kavanaugh, 'green-light a significant shift in power from the Legislative Branch to the Executive Branch,' effectively giving the Executive Branch 'the authority to set economic and social policy as it sees fit.'" The brief states: "Our Constitution reserves the power to enact, amend, or repeal statutes to Congress alone."
An "amicus brief" is a brief filed in a court by someone who is not a party in the case. Such briefs may supplement the legal arguments made by the parties and can aid the court by bringing to its attention aspects of the case not covered by the parties, such as the impact of the issues in the case on third parties.
Oral argument is scheduled for February 24, 2014.