A Christmas Gift for Texas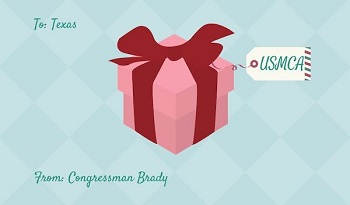 After more than a year of delay, the House of Representatives passed the United States Mexico Canada Agreement (USMCA).
This new agreement will grow our strong economy and is a win for American workers, farmers, and manufacturers.
USMCA by the numbers:
Over $68 billion in new economic activity. 
176,000 new jobs here in America. 
$34 billion in new auto plants. 
76,000 new American automotive sector jobs. 
Plus, for the first time in any trade agreement, there is a new chapter dedicated to digital trade, supporting digital innovators and allowing for a stronger American economy.
USMCA is a huge win for the Lone Star State, because more than 950,000 good-paying jobs are supported by trade with Mexico and Canada.  We export over $300 billion in goods each year, and over 43 percent of that is with our North American neighbors.
I'm proud to have led efforts to pass this historic trade agreement – and now we're bringing the success back home to Texas.

Thank you for taking the time to read and if you have a moment, please answer this short survey. And don't forget to forward this to friends and family in our district who would appreciate these updates.
Merry Christmas and Happy Holidays!