Congressman John Culberson Hosts Town Hall Meeting: We've Got to Stick Together!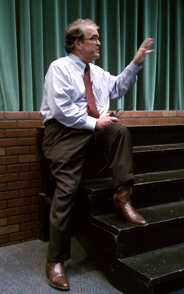 Republican Congressman John Culberson of CD-7 hosted a town hall meeting for his constituents at Cy-Falls High School. The crowd was sparse, about fifty or so in attendance. The mood was relaxed, no crazy video taped confrontations or rude constituents, just concerned citizens waiting for an update from the Congressman.
I was surprised anybody made it out because as we all know, Senator Ted Cruz was in the throes of a filibuster to try and defund Obamacare in the Senate. You can imagine that the topic of conversation was focused on Obamacare. There were other concerns raised, such as the NSA spying scandal, in which Congressman Culberson denounced Edward Snowden as a traitor. The Congressman also said that he wouldn't vote to repeal the Patriot Act, which was in large part the reason the government was allowed to spy upon innocent American citizens, although he'll tell you that wasn't the intention of the Patriot Act.
He stated he was in full support of defunding Obamacare and supported the most recent continuing resolution that came out of the House last week, the one that funded the government, but not Obamacare. He was also fully supportive of what Senator Cruz was doing and even shared a personal text message exchange he and the Senator had. Personally, the most frustrating thing to me about Obamacare, besides the fact that it is slowly killing jobs and the economy, is that we have no idea what is going to happen. The bill is so awful, and the fact that we have unelected bureaucrats surrounding the future of our healthcare, is a recipe for disaster.
The Congressman did get a question from the audience, "What happens when Harry Reid strips out the defunding language from the House bill?" Culberson's reply: "We'll send it right back." Okay, Congressman, I'll hold you to that.
If you noticed the title, "We've got to stick together!" That seemed to be the theme of the evening; an audience member even brought up the 11th Commandment coined by President Reagan, "Thou shall not speak ill of any fellow Republican." Not in public, anyway. I see a lot of that done publicly when we are dealing with John McCain calling out Senator Cruz for being a so-called 'whacko bird'. We've almost come to expect that from McCain and his ilk. Yes, he has an ilk, and I think it's safe to say that Harry Reid is part of it, especially after their theatrics at the end of Senator Cruz's filibuster.
On the surface, it seems that Congressman Culberson is 'with' Senator Cruz, and he might just be. However, there was no talk last night of Congress being exempted by Obama from being forced into the Obamacare exchanges. In a phone call I had with the Congressman, he assured me that Congress and its staff was NOT exempt, but I have found information that proves otherwise. This article written by Loren Heal at Freedomworks says, "Congress has allowed itself to be exempted from this aspect of Obamacare. While the only insurance the federal government can offer its congressional employees must be in plans that are offered through exchanges, members of Congress and their staffs now have a benefit that the rest of America, by law, cannot have: their employer picks up the tab." We should as citizens, Dave Farrington said, "All have equal protection under the law." So all of that talk of "sticking together" just kind of fell flat, if you ask me.