Congressman Lamar Smith CD-21
Congressman Lamar Smith serves Congressional District 21 which includes parts of Bexar, Travis, Comal and Hays Counties and all of Bandera, Blanco, Gillespie, Kendall, Kerr, and Real Counties. His knowledge is undisputable and his determination to keep his constituents informed make him irreplaceable and a perfect fit for the 700,000 residents of this Texas hill country district.
Congressman Smith has an opponent, Matt McCall, who failed to win in the 2014 Primary and is again challenging Smith in 2016. McCall is a Libertarian masking as a Republican and has mastered the art of not completely telling the truth about Smith. If a candidate runs on fictitious information, can he be trusted to report the truth if elected? We already have plenty of 'those' in office, why add even one more? Besides what proven record does McCall have other than he 'wants' to be a congressman?
Smith is the former Chairman of the House Judiciary Committee and presently serves as the Chairman of the Science, Space, and Technology Committee. This vital committee has authority over the programs at NASA, the Department of Energy, the Environmental Protection Agency, the National Science Foundation, the Federal Aviation Administration and the National Institute of Standards and Technology. He serves on the immigration and intellectual property subcommittees.
He has always been a staunch supporter of border security and is the founder of the Congressional Border Security Caucus and has recruited 90 of his colleagues to join him. He co-sponsored HR140 Birthright Citizenship Act of 2015 that was introduced in January 2015. This bill will 'Amend the Immigration and Nationality Act to consider a person born in the United States "subject to the jurisdiction" of the United States for citizenship at birth purposes if the person is born in the United States of parents, one of whom is: (1) a U.S. citizen or national, (2) a lawful permanent resident alien whose residence is in the United States, or (3) an alien performing active service in the U.S. Armed Forces.'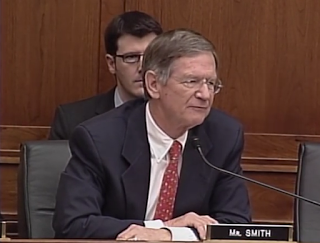 At the Judiciary Hearing on Sanctuary Cities Smith said, "These victims are innocent Americans." In July he voted for HR2009 to Enforce the Law for Sanctuary Cities Act the bill passed the House with a 241-179 vote. In December 2014, an amicus brief was filed in the US District Court of the Southern District of Texas Brownsville Division by Texas US Senators John Cornyn, Ted Cruz and House Judiciary Committee Chairman Bob Goodlatte; Congressman Smith was among members of the House Supporting Halt of President's (Obama) Unilateral Immigration Actions.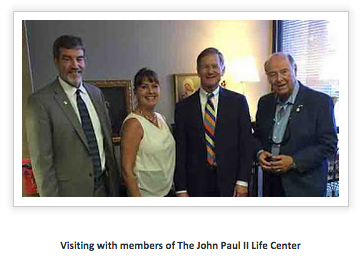 As a Pro-Life Activist, I can tell you that whether or not a candidate is Pro-Life is a very important issue in CD21. Anyone can stand with the Pro-Life activists for 'show' but in the end it is those that are truly committed to the Pro-Life movement, like Smith that can make a difference. Smith's record shows that he has consistently voted for Life. Smith co-sponsored the Pain-Capable Unborn Child Protection Act which passed the House with a 242-184 vote in May, 2015. He has unfailingly voted against using taxpayer money to fund abortions.
Because Congressman's Smith's tasks are ever pressing, I will keep you informed on his activities. I stand with Congressman Lamar Smith as he seeks his reelection to CD21.
THE RED REPORT
Sonja Harris
Pray, Fight, NEVER GIVE UP!
Rep. Smith at Judiciary Hearing on Sanctuary Cities
https://www.youtube.com/watch?v=9zpKVtEIo8w