Congressman Michael McCaul and Ivanka Trump meet with Human Trafficking Survivor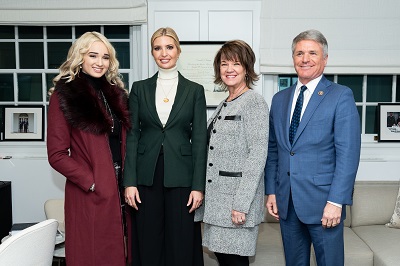 Tuesday, Courtney Litvak, a Katy, TX resident, joined Ivanka Trump, Advisor to the President,and I to discuss the prevalence of human trafficking in our communities and how to improve the way our country combats this heinous crime and takes care of survivors.
At 17-years-old, Courtney Litvak was swept into a human trafficking ring after being coerced into the wrong crowd. From there, it was a slow and deceptive grooming process which resulted in Courtney being trafficked through the U.S. over the next several years.
Sadly, Courtney's story is the only one in our community – at any given time, nearly 80,000 minors are being trafficked in Texas. I am thankful that Courtney's story ended in hope, for many this is not the case."
According to a 2017 Department of Justice Report, many minors who are trafficked experience life-long physical and psychological trauma, disease (including HIV/AIDS), drug addiction, unwanted pregnancy, malnutrition, social ostracism, and in some cases, death.
However, Courtney has not let her dark experience control the bright future she has ahead of herself. Courtney and her mother, Kelly Litvak, founded Childproof America with the goal to raise awareness, educate members about the signs of human trafficking, and help survivors of trafficking.
"Though I endured this unimaginable event, I am now able to help others because of my experiences. There is no greater gift you can give someone who has been trafficked than hope for a future," said Courtney. "Through Childproof America's peer support program, I am able to provide an outlet for survivors and give them the support they need."
Courtney and Kelly Litvak found that there was a gap in how our country addressed human trafficking – it is through their peer support program and awareness campaigns that they intend to fill it.
Courtney and I sat down with Ivanka Trump to widen this conversation to the White House.  
"It was incredibly humbling to meet with Courtney and Kelly Litvak today. The scourge of human trafficking does not start as the waters' edge, it's affecting people in our own neighborhoods and throughout the United States. This administration is deeply committed to ensuring that Courtney's experience will never be repeated," Advisor to the President, Ivanka Trump.
It is my firm belief that it takes a community to defeat this modern form of slavery we call human trafficking. As father of five children, I feel a duty to everything in my line of work to rid our communities of this atrocity.
While in Congress, I introduced several pieces of legislation aimed at defeating human trafficking. Most recently, I introduced the Interdiction for the Protection of Child (IPC) Victims of Exploitation and Human Trafficking Act, H.R. 836. This bill would require the Attorney General to establish a pilot program to train federal, state and local law enforcement officers on how to better identify human trafficking.
Additionally, I have held several events in the 10th District of Texas which brought together health professionals, local volunteers and law enforcement in order to create meaningful partnerships that would have the ability to defeat human trafficking in my district.
Courtney's story is an inspiration and only further places light on this issue happening right in our backyards. It is conversations, like the one Courtney and I had with Ivanka today, that strengthen the community we have to defeat human trafficking.