Congressman Smith to Introduce Bill to Bar EPA from Basing Regulations on Secret Science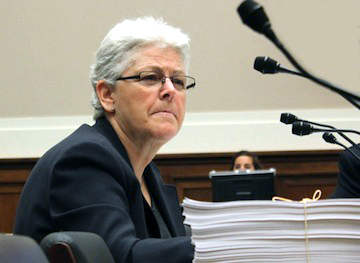 At a hearing today before the Science, Space, and Technology Committee, I pressed EPA Administrator Gina McCarthy about the agency's continued use of undisclosed data to justify the Obama administration's billion dollar regulatory agenda. Earlier this year, I issued a subpoena for data used by the EPA to support the agency's upcoming air quality regulations. This was the Committee's first subpoena in 21 years. One of the rules purportedly supported by the data – the EPA's forthcoming ozone standards – is expected to be the most expensive in U.S. history, costing an estimated $90 billion annually. In September 2011, then-Assistant Administrator McCarthy committed to make the data sets available to the Science Committee. After two years, one subpoena and countless letters, the EPA has failed to live up to its commitment to provide the Committee with data that could verify the agency's claims.
I expressed concern with the Administration's reliance on secret data to promulgate rules that affect the American public and announced my intention to introduce legislation that would strictly prohibit the EPA from continuing to utilize secret science to justify future regulations.
The EPA, like every other governmental institution, answers to the American people. Everyone agrees that we need to protect the environment, but we should do so in a way that is open and honest. It appears the EPA bends the law and stretches the science to justify its own objectives. We need to know whether the agency is telling the truth to the American people. The EPA must either make the data public, or commit to no longer using secret science to support its regulations. I will introduce legislation in the next few weeks that will stop the EPA from basing regulations on undisclosed and unverified information.
In addition to the EPA's use of secret science, we also asked Administrator McCarthy about the EPA's recent efforts to expand its regulatory reach under the Clean Water Act. A draft rule obtained by the Science Committee is a massive expansion of EPA regulatory authority over private property, giving the agency jurisdiction over almost all man-made and natural streams, lakes and ponds in the U.S. I raised concerns that such a power grab undermines states' rights and increases federal control of private property that could lead to the EPA telling us what to do in our own back yard.