Congressman Tony Gonzales Asks Defense Secretary to Increase the Size of Texas National Guard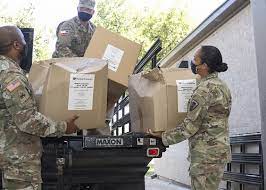 I joined a bipartisan letter with my House colleagues to Department of Defense (DOD) Secretary Lloyd Austin asking to increase the size of the National Guard of Texas, California and Florida. Read the full letter here.
"As elected representatives from the nation's three most populous states, we have an obligation to ensure that these civilian warriors, and our state bureaus, have the resources they need to fulfill the full range of missions we task them with, including defense support for civil authorities and domestic missions in support of Governors," said the letter.
"However, with our current and growing population levels, our states have the lowest Guardsmen- to-civilian ratios in the country, with California at 54th, Florida at 53rd, and Texas at 52nd. The extraordinary circumstances of the past year have highlighted the strain on our Guard units have been under for too long, potentially hurting recruitment, retention, and readiness. The limited resources allocated to our states has affected our Guard bureaus' ability to rotate personnel, putting greater demands on Guard families."
Over the last year especially, the brave men and women in our National Guard have responded to our nation's toughest challenges. In Texas alone, our Guardsmen have helped navigate the state through the pandemic, the surge at the southern border, and winter storms and flood rescue. In order to ensure that our National Guard is able to answer our states' and our nation's toughest calls, our troops need the adequate resources, including the proper rotation, retention and recruitment of personnel in the Guard.