Congressman Tony Gonzales Hosts Cyber Roundtable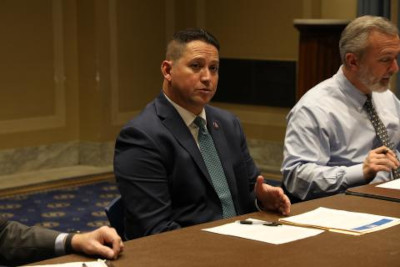 I recenlty held a cybersecurity roundtable with Congressman John Katko (NY-24) and fellow members of Congress. Field experts in attendance included Dmitri Alperovitch, Cofounder of CrowdStrike and Bill Evanina, Former Director of the National Counterintelligence and Security Center. We discussed cyber issues facing America including combatting ransomware, empowering Cyber Command, and emboldening the Cybersecurity and Infrastructure Security Agency (CISA). 
For more photos, click here.
"The future of cybersecurity is critical to our national security," I said. "This roundtable allowed members of Congress and industry experts to discuss ways the U.S. can strengthen our cyber defense, as ransomware and cyberattacks are at an all-time high. I appreciated being part of the conversation to devise meaningful solutions to America's cybersecurity challenges."
"As many Americans have witnessed in the past year, cyber-attacks have the potential to disrupt our daily lives and impact our economic and national security," said Rep. John Katko (R-NY), Chair of the American Security Task Force. "I'm proud to work alongside Rep. Tony Gonzales and members of the American Security Task Force to improve our cyber resilience and make sure our country is better prepared to mitigate attacks in the future. Feedback from industry stakeholders is critical, and I appreciate the opportunity to hear their ideas to bolster our cybersecurity posture."