Congressman Tony Gonzales Issues Statement on Visit to Freeman Coliseum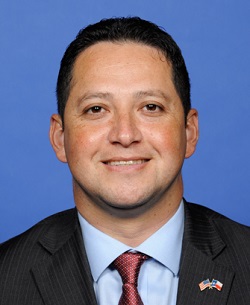 On Friday I issued the following statement after visiting Freeman Coliseum, which has been converted into a temporary housing facility for unaccompanied minors:
This morning, I visited the unaccompanied minor facilities at Freeman Coliseum in San Antonio. Any allegations of misconduct or abuse must be fully investigated. As a father to six, seeing unaccompanied children is heartbreaking. Any child – no matter their legal status – must be protected against any type of abuse. Freeman Coliseum will be at capacity this weekend. I have three other facilities like this in my district. The border crisis is a humanitarian crisis and will not get better until President Biden works with Congress to find a solution to securing our border.
On Thursday, I led a Congressional delegation to the U.S.-Mexico border in Del Rio and Eagle Pass. We met with local officials, sheriffs, law enforcement officers and border patrol agents, as well as toured a DHS facility in Eagle Pass.