Congressman Tony Gonzales Requests to Designate Fort Stockton a COVID-19 Vaccine Hub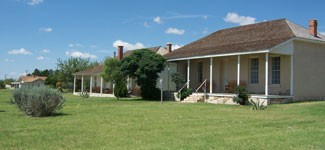 I sent a letter Monday to the Texas Expert Vaccine Allocation Panel requesting to designate Fort Stockton in Pecos County as a COVID-19 vaccination hub. 
As we continue to combat the coronavirus pandemic, we have to ensure that even the most rural areas of our district have the same access to the vaccine as those in our cities. Designating Fort Stockton as a vaccine hub would allow us to disperse the vaccine more quickly and efficiently.
Full text of the letter can be read below. For a PDF version, please click here. 
COVID-19 Expert Vaccine Allocation Panel
Texas Department of State Health Services
1100 W. 49th Street,
Austin, Texas 78756
Dear Expert Vaccine Allocation Panel,
I respectfully request that Fort Stockton, located in Pecos County, be designated as a COVID-19 vaccination hub. As the pandemic spreads across rural areas in Texas, I am concerned that key portions of my congressional district do not have adequate access to a vaccine.
This is especially true in Trans-Pecos - a region comprised of eight counties with a population of 55,000 (excluding El Paso). Designating Fort Stockton as a hub would strategically connect Pecos County, the most populous in the area, with the surrounding Jeff Davis, Reeves, Presidio, Brewster and Terrell counties, and provide an alternative hub for Hudspeth and Culberson.
Fort Stockton's convenient location on the Interstate-10 highway would enable easy transit among these counties. The Pecos County Memorial Hospital already serves patients from neighboring areas, and Fort Stockton has the resources and commitment of the County, City, School District, Emergency Management Coordinator, and EMS to administer vaccines quickly and efficiently.
I realize Reeves County has been designated as a hub, and fully support their efforts. However, given the population and distance from one town to the next, this region would be better served by two hubs. Thank you for your dedication to promoting a healthy Texas. If you have any questions, please contact my District Director, Michael Blair at [email protected] or at 210-806-9920.
Sincerely,
Tony Gonzales
Member of Congress