Construction Groups and Other Business Leaders Encourage Voting in Texas Primaries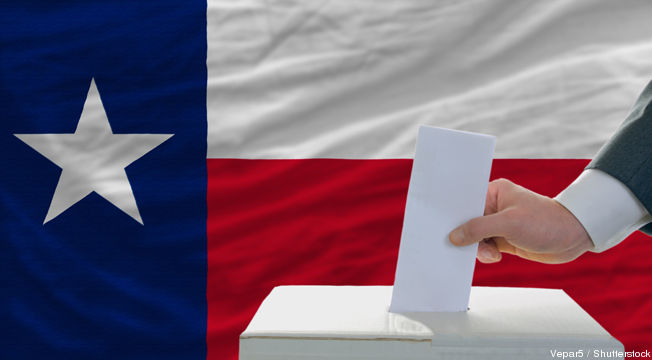 Construction associations are among the business groups this year encouraging employers and their employees to get out the vote in the Texas primary elections. They and others are stressing that in Texas, the vast majority of the state-level races are actually decided by voters in the March primary while the November elections are often just an afterthought.
"AGC Texas Building Branch encourages all members to register for primary elections and get to the ballot boxes to cast your vote," said the AGC-TBB in a recent email. The group added that "These are the elections that make a difference in Texas - the vast majority of state races are decided in March, not in November!"
"In 2016, Texas had one of the lowest primary voter turnouts in the nation," AGC-TBB said. 
"Despite 2016 being a presidential election year, only seven states out of 35 states holding primaries had lower turnouts than Texas," the group said. "While nearly 75 percent of the Texas voting-age population registered for the 2016 primaries, only 19.9 percent of registered Republicans and 10.1 percent of registered Democrats actually voted."
The AGC-TBB also passed along information on how to tell if you are registered to vote.
"You can confirm your registration status on this website by going to Am I Registered? where you will select one of three methods for conducting your search. You can base your search on: 1. your Voter Unique Identifier (VUID), which appears on your voter registration certificate; 2. your Texas driver's license number, if you provided it when you applied for voter registration; or 3. your first and last name. Or, you can call the voter registrar's office in the county where you reside."
If you're not registered to vote, you can "obtain a voter registration application from your voter registrar's office, libraries, most post offices, and high schools. You can also fill out a voter registration application online or request a postage-paid application be mailed to you," AGC noted.
"Your voter registration becomes effective 30 days after it is submitted (and accepted*) by the county voter registrar. The county office will then put your name on the voter registration list, generate your voter certificate, and mail it to you. Once received, be sure to read the information on the back of the certificate, sign by the X on the "front" of the card (the blue area) and keep your voter card in a safe place," the group said. Put simply: The faster you become registered to vote, the better.
Other business groups are ramping up their voter engagement efforts as well. For example, a group called the North Texas Commission is working to turn out the vote in the primaries. TheDallas Business Journal quotes the group's President and CEO James Spaniolo, who said that in the last legislative session, "there were a number of organizations that had similar and consistent views on the issues, but we were working in our own lanes."
"This is an effort to create a super-lane for issues that we care about," Spaniolo told the Business Journal. 
From the article: 
From Toyota to Facebook, Exxon and American Airlines, North Texas has been a magnet for business growth, said Chuck Allen, the commission's chairman and managing director of Government Affairs for American Airlines.

"We're based here because Texas supports business, it offers a great quality of life for our employees, and does so many things right," Allen said. 

Today, people are increasingly moving to a place and then finding a job rather than moving because a company moves them, he said. 

"If we lose this business-friendly environment in Texas, there is no doubt our economy will suffer," Allen said. 
Late last year, a Texas House committee held hearings on preserving the economic edge the state has long held. During those hearings business leaders told lawmakers that several things are key, including robust economic incentive programs, bolstering the workforce, and avoiding divisive and unnecessary legislation.