Cornyn: With Democrat Shutdown Over, Senate to Press Forward on DACA, Disaster Relief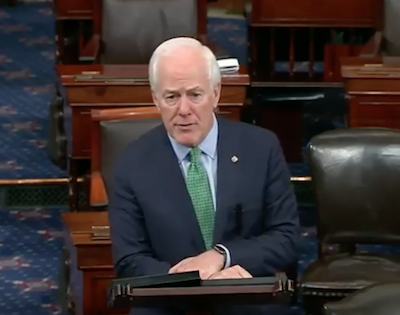 Yesterday on the Senate floor, I discussed the vote to reopen the government and resume work on legislative items including a bipartisan solution for DACA recipients and disaster relief for Texas. Excerpts of my remarks are below, and video of my remarks can be found here. 
This was a strategy that lacked an endgame and was never going to work. The safety, health, and livelihoods of Americans across the country didn't deserve to be held hostage, and the American people have had enough of these kinds of games.
This calculated stunt that put funding for our government, military, and Children's Health Insurance Program at risk all because our colleagues wanted to accelerate consideration of the DACA issue, the Deferred Action for Childhood Arrivals, was a mistake.
I'm glad our colleagues decided to take this step to reopen the government while we resume our work to find a solution on this immigration issue. But we have a lot of other important issues.
We also need to deal with disaster relief.
While the House of Representatives has voted on a $81 billion disaster relief package, because of the holdup here -- again, because our Democratic colleagues in the Senate think that this DACA issue is more important than those victims of natural disasters, not to mention the wildfires out West -- that's been put on ice as well.
I especially remain committed to the 124,000 DACA recipients in my home state of Texas.
I have a personal interest in making sure we come up with a bipartisan solution for these young adults who face such uncertainty.
These are our neighbors, and they work alongside us in our community. They deserve a thoughtful and compassionate solution that I hope we deliver.
I've had a chance, like all of the members of the Senate and the House, to meet many of these young people and many of them are extraordinarily impressive.
So it's a precarious position, I'm sure, to live every day not quite sure of what the future will mean.
I think we need to correspondingly assure the American people that we're actually serious about border security and enforcing our laws.
Being able to put in place the right mix of infrastructure, personnel, and technology will enable us to begin to regain the public's confidence on this issue.
We are all working, and have been for months, on a path forward on DACA, and we'll continue to do so now that the government has reopened.